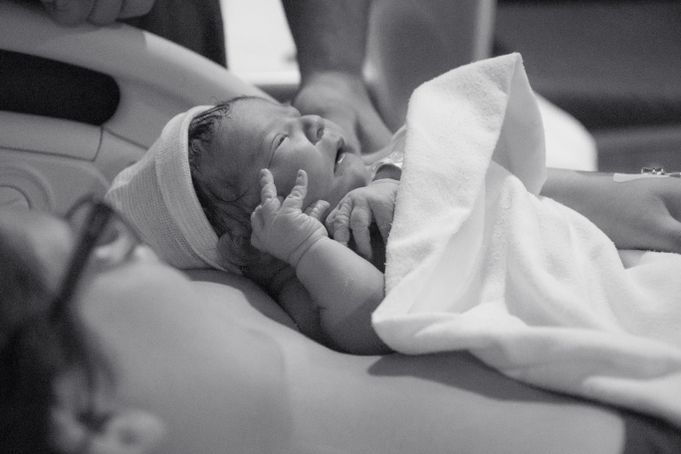 You may remember Carol and Josh's maternity session I blogged about on May 5th (which also happened to be her due date!) we waited ever so patiently, as Carol grew more and more uncomfortable, for Rebecca to chose her big debut. On Wed, May 11, at 3:43pm, I received the big text! She was having contractions about 10 minutes apart. Today was going to be the day!
I was super excited for her, and I would be lying if I said I wasn't a bit nervous. What a big important event! I had never photographed a birth before, but for my friend I wanted to gift her this! While I have four kids, and therefore I am well acquainted with the birthing process, I had never actually been on this side of it. I wasn't entirely sure if my gear could handle the lighting, and I was certainly not about to bring a flash into a laboring woman's room. 
It was beautiful, and exciting, and exhausting (although nothing in comparison to what she was working through!). Carol worked hard. There were many times in between contractions that Josh had her still smiling and laughing, but as time went on those became less as she concentrated harder on what her body was ready to gift her. It was work. It was painful. It was excruciating at times. There were so many times that I wanted to put my camera down and help her work through her pain; that I wished I could take it from her, even if just long enough to let her catch her breathe. But she had an incredible support team with her, she certainly didn't need anything from me, except to keep documenting and keep telling this story. There were even more times that I thought for sure she would tell me to get out if she heard one more click of the camera! But that moment never came, she just kept working, kept focusing and kept going. 
 I am extremely thankful for my experience, and I can only hope that I was able to give her something that showcases the strength and beauty that came from her big day. 
After about 5 hours from our arrival at the hospital, Rebecca Taylor Boswood was  born 5/11/16 at 11:26pm. 10.10 lbs 22 inches. Welcome to the world Rebecca!