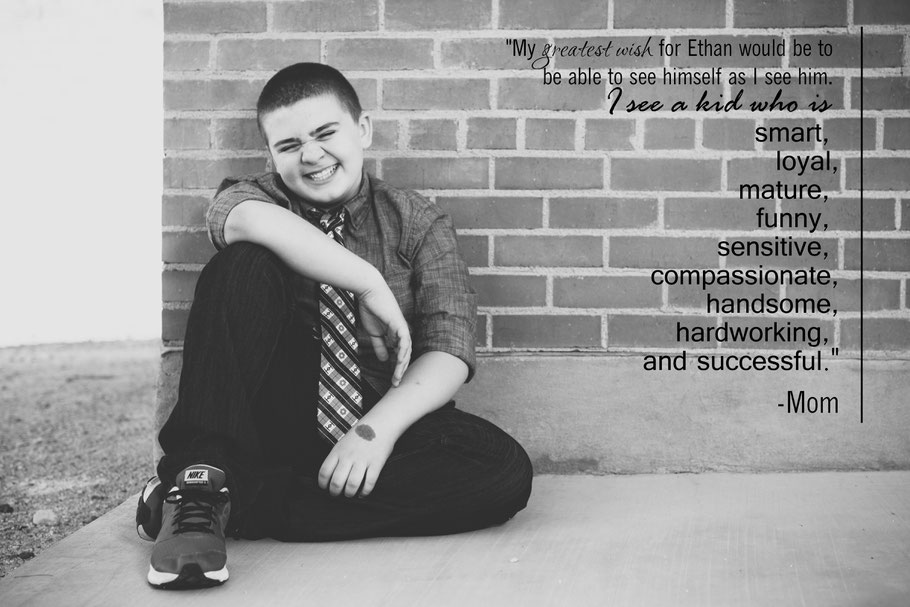 Shortly after launching my Who I Am Project, Ethan's mom, Melanie, talked to me about doing it for her son. She was already planning to surprise him with a birthday trip to the happiest place on earth, and one of Ethan's favorite places, Disney Land; and upon their return she wanted to surprise him with our self-image boosting project. 
When we met to design his session, what he thought was simply a portrait session centering around his interests, I could immediately feel how warm-hearted he was, as he shook my hand with both hands and greeted me with a kind smile. 
We went down the list of his favorites, and let me tell you, these were so hard for him! He had so many favorites and loves that narrowing down any one or two were a challenge. He glowed with happiness however, just thinking of all of his favorite things. 
We narrowed down that he is into science and chemistry (inspired by an aunt of his), that he truly loves his dog, Zeus, and that he loves doing Jiu Jitsu. He was proud of the fact that he often sparred with adults. He is also a youtube vlogger junkie, a lover of many, many movies and is he extremely fond of he stuffed dog, Jack.
Our session took a little longer then usual, but I didn't mind, as Ethan showed off his goofy side, there was lots of laughter, funny faces and goofing off. We definitely had a good time at his session! Little did he know the actual plan behind his session, as behind the scenes I received rave after rave of Ethan's beautiful heart, his funny personality and his amazing amount of compassion. Surprising him with these quotes from his family (most of whom are from out of state) was nothing less then incredible. I loved seeing the emotion on his face as he discovered again and again the wonderful things his family had to say. 
Take a look below, and see it for yourself. Thank you Melanie and Ethan for letting me give this gift to you and participating in the Who I Am Project. 
If you would like to find out more about how to participate in the Who I Am Project, you can find that here.