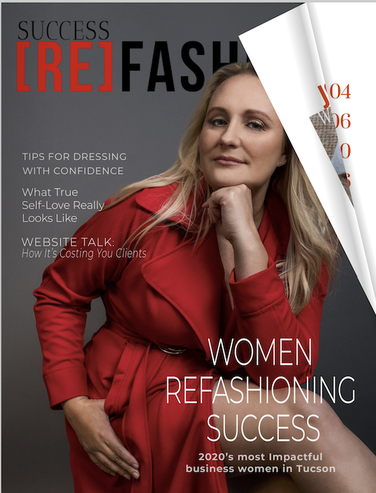 IT'S FINALLY READY!! And I am delighted with the outcome. I know you will be too. 
And Wow. That's all I can really say as I hit upload this morning for Tucson's only true woman in business magazine, that celebrates our local women who are making an impact and creates a platform for visibility, and not only permission but also insists that you, as the amazing woman on fire that you are, show up, take up space and exist fully. 
We insist that you no longer hide, no longer play small, and we invite you to join us as we rise together.
This magazine was over a year in the making, with literally hundreds of hours fully immersed in this labor of love... and I learned so much! I am so proud to finally see this come to completion and I am excited to already begin the journey for the next issue! The collaborations and women experts that came together to make this magazine possible is a true testament to the support and community that is found in our Tucson women in business. I am so thankful to each of you for being part of it, for sharing it and for supporting it. 
And I am so excited to finally release it to you!
What's inside!? 
Get inspiration from 7 top women in business, women making an impact! See their stories and their interviews!

Get value from articles written by our own local women experts, women you can connect with and support right here in Tucson! Everything from finding your ideal client to creating an authentic client experience to a website that helps to keep more clients!
See the designer feature of local designer Ruby Sanders owner of Ruby Jane Designs. See her clothes on everyday real and local women! Including an interview with her and her top tips for how to dress for success!
AND tips from our very own studio makeup artist Renee Rodriguez of Radiate with ReneeJ
AND posing tips from Jessica Lea Korff. 
Go get yours!
Oh Hey! We are doing a giveaway for everyone who picks up their copy and participates! 
What are you winning? A $50 gift card to Fuchsia Spa- La Encantada. Because if there is one thing I am looking forward to after this, it's some downtime and me time!! 
How to win:
Purchase your magazine HERE>>
When it arrives, post a selfie with your copy AND what your favorite part is so far! - This can be on either Facebook, or Instagram OR both for extra points ;) (Important: remember to tag and make the post public, so we can see it).
That's it! We will hold a drawing on March 1st and announce the winner! 
This contest will run from today through February 28th,
*update* It has been brought to my attention that when signing up for an account it is hard to get back to the magazine, if this happens to you, pop back to this blog post and click this direct link: https://www.magcloud.com/browse/issue/1920868
94 pages, published 1/23/2021
Magazine about inspirational women in business, for women in business!
*please note that this is copyrighted material, distribution of the full digital version with others who have not purchased it is considered copyright infringement. 
A quick note about pricing, you will find the price of this magazine higher than your typical magazine. Because we are a small operation, we chose to upload this magazine for purchase online, as a result the cost is more for a 1 off print sent to your home than it would be if a publication purchased thousands and put them in the store at a lower price. We hope that you, as a woman in business, understands how these trade offs work.
We also hope that you will notice the value received is 10x the value of the magazine! With nearly 100 pages of value (vs the same size in a similar magazine where more than half is often ads) We have some pretty incredible women giving some pretty incredible value in this! You won't want to miss out.
Have you signed up for The A List?
Our email list that keeps all of our VIPs up to date on the happenings of the magazine
and all of our local women in business!
Join us HERE>>