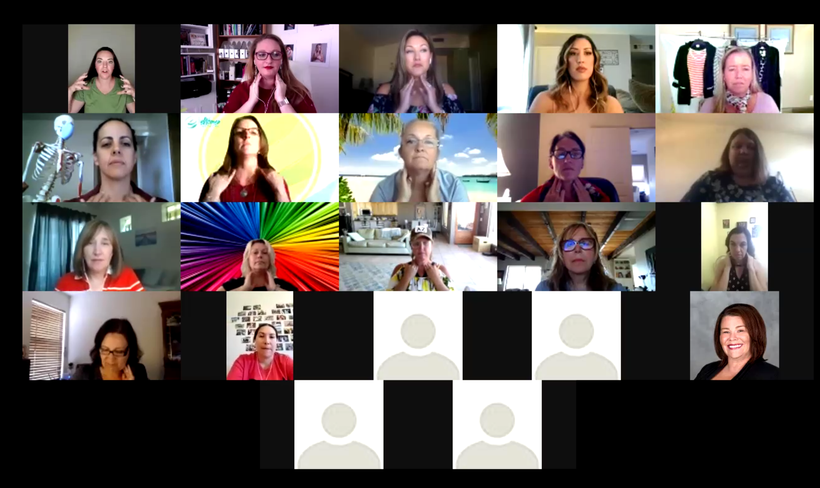 Oh my goodness! Someone just won a Back to YOU giveaway valued at over $1700 yesterday! And it was so fun! I hope you were on live, because turns out we had some technical difficulties in the converting of the video! Those replays just never are the same! And now in this particular case, for sure they are not!
I mention in the video how much I am learning Grace--especially for myself... for instance.. in this call, I didn't hit record until half way through Martha talking, whoops!! ... and then some how, technology does what technology does, and the video ends much earlier then we ended our call.... sigh...grace. It's ok. We have a screenshot for the end!! lol.
Just a secondary side note here that I really want to share with you that just came up for me in watching this replay... In this crazy world of non-stop zoom and video connections, the other thing I am learning is to really love myself, my physical self. The self that having 4 kids has completely changed the layout of... that with all the looking at myself all day, every day, in the many meetings I am attending, and a month or so later of doing so--I just caught myself smiling at me. I can look at me and think "You know what? I really like myself" I didn't tear myself down... I thought, man... I am loving me right now!--- I hope you are feeling that way too, and if not, give yourself permission to, because I think your pretty great, and I bet so do most of the people around you. 
Ok, now on to the fun giveaway stuff!
You had the opportunity to meet and get to know the owners of these local businesses! They showed up to give away some goodies AND give some super helpful tips.
I don't know about you. But tips from experts... that's the stuff you want to listen to!
some of those included:
-How to create a stronger memory around your experiences
-A super quick routine that reduces redness and inflammation in your face!
-Sunscreen on your ears
-How to help you remember to wash your face.
-How to hang your sweater
-How to tuck your shirt to create length... even if you have a less than "tuckable friendly front" like me! lol
-When you should actually be putting on your eyeshadow or mascara in the process of putting on makeup. 
-Eye makeup over 50
-The magic pill for preventing a covid-19 complication and increase other hormonal benefits!
-Where to find important stretches that help zoom back and eye strain.
-Creating the habit to become a priority in your own life
-How to remove your tips so your nails can heal and get them ready for something better for them!
-How to make sure you show up and align with the way you want to be seen, and what colors, even in what you are wearing, can do the confirm that or negate that.
What!? Are you reading that!? There is SO MUCH VALUE packed into this call/replay! (don't worry... all of that made it into the video!)
So what was included in the giveaway? Just incase you missed it, Ill lay it out again below:
Isn't that the most fantastic package!? I wish I was eligible to win it!
That's ok though, I'll be purchasing some of these prizes myself in the near future! And if you liked them, I hope you will too! A big part of this giveaway was all about supporting local women owned businesses... in this current state of the world, it's more important than ever.
Please consider reaching out and picking something up from one or more of these amazing women as well! #inthistogether.
BTW... even if you were on the call, you may not have known this... A few of the women involved will be reaching out to offer runner up prizes from the list of people who entered!! So keep watching your phone or email because you may still have a chance to win!
During the call, we got to know a little more about each of these fabulous women, AND we got to walk away with a fantastic tip! Make sure to catch the replay so you can walk away with those too! 
We gave away an incredible package, fantastic door prizes, even a special one just for wearing red! 
Some of those door prizes included a reflexology tool and lesson, a tiffany's wine glass, beautiful red jewelry and a even a fashion style shoot and business feature! Watch below for all the goodness!
BUT WAIT... I have one more offer for you... and you thought you missed out on winning a door prize... 
I have an extra "door prize" for anyone watching the replay! Message me at jessica@fdlphoto.com with the correct answer for a $50 gift card towards your next session! It will be sent via email, *eligible only for those who did not win a photo prize already.
Here's the question: What did Jessica say was the Big thing that she is taking forward into the new normal?
Ok...
so, If you watched the video before scrolling down, you know that it ends with me saying
"ok, I am going to see if I can share my screen so you can all see it spin with me" to prepare for announcing the bgi winner and then everyone's faces freeze like this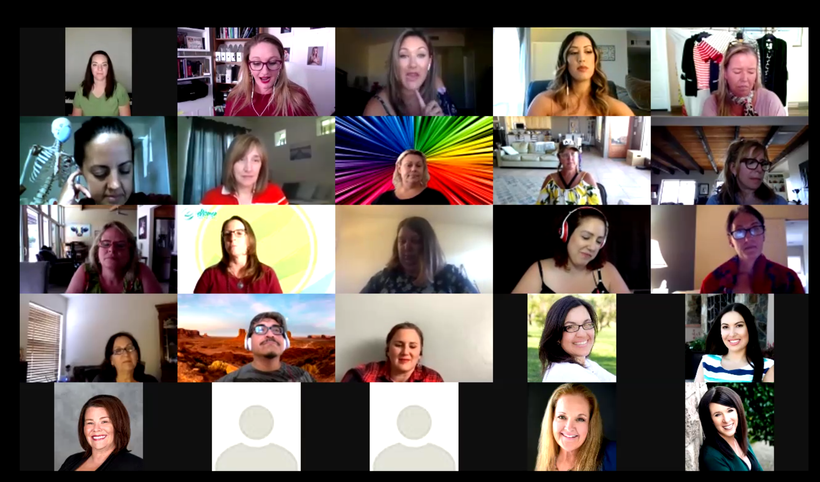 You can tell myself and Robyn are especially excited about the screen share for the big winning screen!
And if you were like me when I was watching the replay... a couple seconds go by and you started thinking that it seems like the longest zoom freeze/glitch ever... and then you realized that, actually, the video stopped.
Um. Cliffhanger anyone? 
Don't worry though, I got a screen shot, so you can see who the big winner is below!!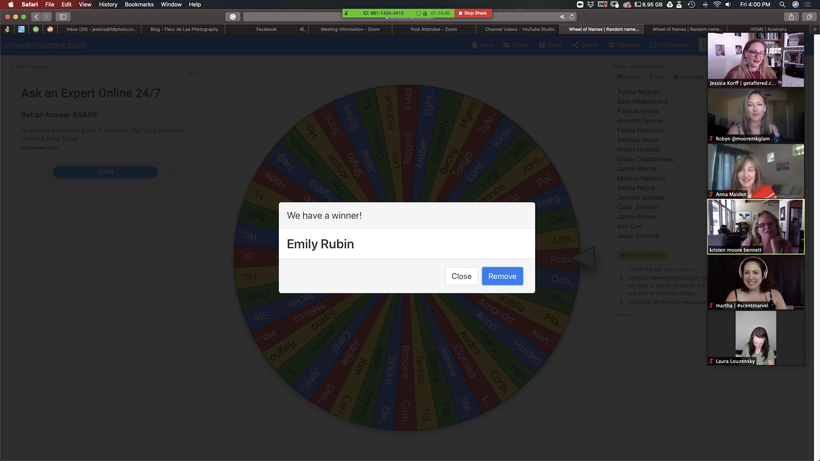 Congratulations Emily! And all of the door prize winners!! 
An and incredibly big thank you to our community for showing up and supporting us! 
Want to meet and learn about more incredible women business owners? Find out when our next live interview will be! Or see past ones HERE>>
If you want to know more about how we are supporting local women in business at Success REfashiond Magazine, you can do that at: www.refashiondmagazine.com or follow us on insta at: www.instagram.com/refashiond_magazine or on Facebook at: www.facebook.com/refashiondmag