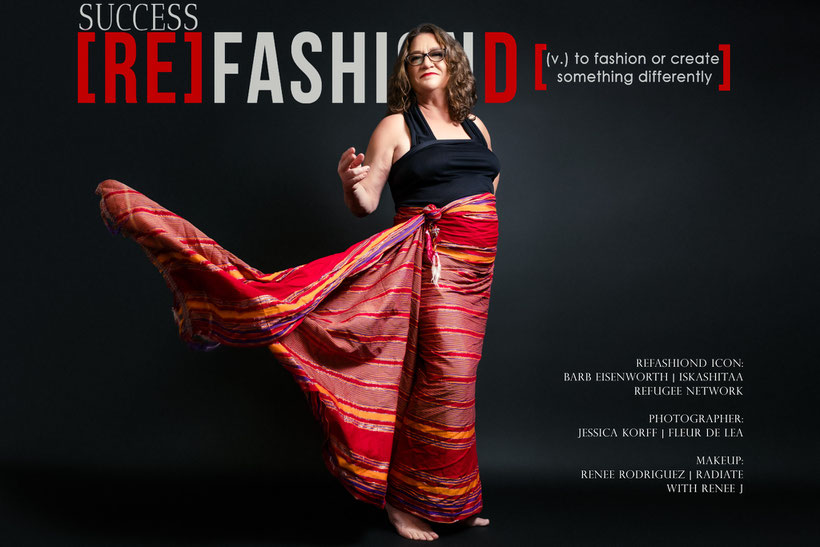 First, I have to say, I cannot believe we are only 2 weeks from the release party! What a year it has been with some truly incredible women leading the way in this year's magazine. 
And it's no wonder Barbara made this list!
I first heard about Barbara from her nomination form, the person who nominated her enthusiastically gushed about the work she is doing and how she is changing things for refugees as well as addressing the rampant backyard food waste. She takes these 2 challenges and puts them in together to help everyone and even more amazing, she has been doing this for 19 years! 
I am excited to share her interview with you, and as a non-profit, if her mission touches you, please connect with her to learn more about how you can help to make a difference as well. 
---
Interview with Barbara Eiswerth
Jessica: What does RED symbolize for you?
Barbara: Red symbolizes the flame that lights the fire of change in the face of adversity. The strength we need is within us but it doesn't have to be BOLD red continuously, just a red spark that keeps on glowing and growing. Perseverance is another word I think of when conjuring the color red. Red feels like it is demanding of attention, likewise my work in the community is demanding of attention. Red is loud and passionate and so am I. Red does not shy away but rather red insists on being seen. I insist we see the beauty and value of immigrants, diversity, refugees in our community and welcome them.
Jessica: What does Success REfashiond Mean to you? 
Barbara: Success Refashioned means striving for your honest best, Success Refashioned means supporting other women and allies in all types of business endeavors to make this world a better place, more beautiful, more delicious, more sustainable, most positive, and most healthy for the ultimate strong community of Tucson.
Jessica: Tell us about you.
Barbara: I have always defined myself by my work, 10 years as research geologist for the USGS, then a UA research associate, Arizona Remote Sensing Center, Office of Arid Lands Studies, and now the founder and director of a Tucson-based non-profit, Iskashitaa Refugee Network. My family, consisting of my husband, William and I, moved to Tucson in 1992 and throughout these 30 years we have loved seven rescued dogs and two rescued cats. We embrace and love many children but those are often refugee children. I have consistently adopted grandparents along the way after the last of my wonderful grandparents passed away in the early 1990s.
I was raised by incredible parents with one brother and one sister and had a dream of a childhood in suburban Pittsburgh, growing up in a wooded close-knit borough called Bradford Woods. I grew up as a tomboy- climbing trees, building forts, exploring creeks, swimming, biking, camping, hiking, canoeing, sailing, spelunking, skiing, rock climbing, and white water rafting too. But definitely have a strong feminine side too. Gardening, growing and propagating all kinds of plants has always been a hobby, a passion since my first job working in a PA greenhouse for 79 cents an hour continuing till earning a doctorate degree in Arid Lands Resource Sciences with emphasis on botany and environmental science.
I like creating original crafts with natural materials, and teaching others about plants and fruit. I love languages, new cultures, and travel especially, both domestic but more international travel which has been heavily influenced by young adult exchange programs in Germany and Bolivia, work travel in Brazil, Chile, Peru, Malawi, and Senegal among many other adventures.
Jessica: Tell us about what you do. 
Barbara: I am the founder and executive director of Iskashitaa Refugee Network. Iskashitaa means working cooperatively together in Somali, the name having been chosen by the first ethnic minority immigrant group I worked with back in 2003. Iskashitaa Refugee Network (IRN) consists of passionate change makers with community integration at our core. Iskashitaa is addressing two challenges in the community 1) UN refugees/asylum seekers struggle to become integrated members of the community and 2) rampant backyard food waste in Southern Arizona where there is an overall lack of access to fresh local produce for the one in four people who suffer from hunger.
Since 2003 refugees and volunteers have worked together to harvest over three million servings of produce from backyards, farms, gardens, and orchards. These healthy fruits and vegetables are then donated to food banks, shelters, Native American reservations, and hundreds of refugee families. By marrying these two challenges, we are able to break down the social isolation that many refugees face, increase self-sufficiency and food security for many, and community. reduce Tucson's prolific food waste. 
We adhere to a Zero Waste model in that we try to prevent food waste through education and outreach while operating on solar energy and often volunteer power. We tirelessly teach about edible trees and the year-round harvesting opportunities, eating local, while promoting reuse, recycle, and compost methods toward a more sustainable community. We prioritize engaging people to give access to fresh local food to the most vulnerable families, as well as teaching multicultural gardening, food preservation techniques such as canning, drying, pickling, juicing, fermenting and marmalade, jam, and syrup making. In addition, we provide food to feed farm animals such as chickens and goats and lastly compost the rest which when finished is gifted back to the community for gardening.
We are proud to have been part of the reason that Tucson is designated as an UNESCO City of Gastronomy in 2015. In 2022 we have been certified as one of the City of Gastronomy Local Food Artisans. We helped develop Linking Edible Arizona Forests (LEAF), a statewide community-based organization. We are also one of the founding members of an international non-profit in North America, Association of Gleaning Organizations (AGO). But as part of AGO, we are the only gleaning operation where the harvesters are also primary recipients of the produce, working gleaned, making us unique on a whole other level.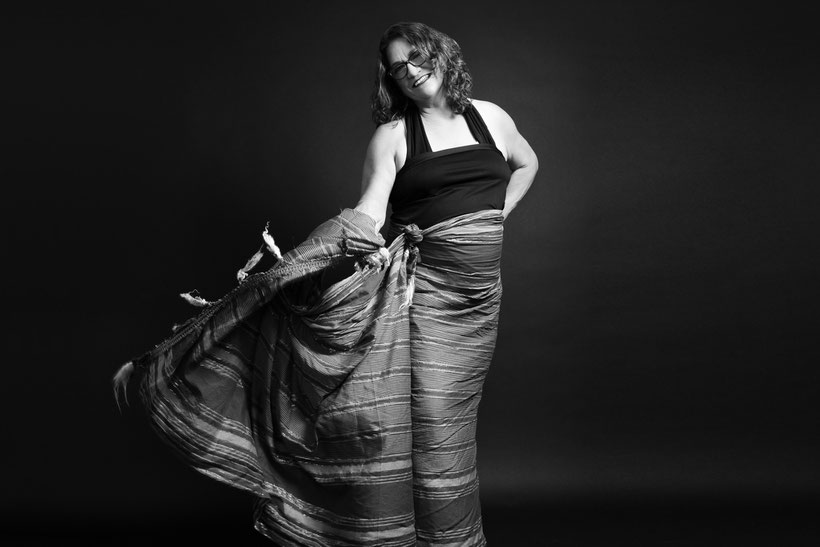 Jessica: Why is the work you do so important? 
Barbara: There is so much work to do in this world toward diversity, equity, and inclusivity and creating space for multicultural conversations and learning.  Founding Iskashitaa Refugee Network was my small effort to influence large numbers of volunteers, interns, staff, refugees, and the larger community through action, change, one day at a time now for 19 years. I keep saying yes to the social justice work, helping to rebuild individual lives while constructing a more resilient, more sustainable, and more inclusive community.
Jessica: What's a common myth about your industry or business? and can you debunk it?  
Barbara: Myth: Refugees come across the Mexico/USA border. No, United Nations refugees arrive in airplanes invited by the US government after being thoroughly vetted by many government entities. Myth: Refugees choose to be refugees. No, most often refugees are escaping war, persecution, and/or genocide with their lives and not much else. 
Refugees, like most immigrants, want to be integrated into the community but there are significant barriers. 
Myth: Nobody wants the excess grapefruit falling from 1000s of citrus trees during the year. Not true, with each year IRN harvests more trees and more fruit and redistributes to more organizations including places outside of Tucson and Pima Co that don't have any or excess citrus. Myth: One fruit tree is not enough to request a harvest from IRN. No, one tree can produce >1000 pounds of fruit in one year. No fruit left behind is our motto.
Jessica: What advice would you give to someone wanting to enter your industry or profession?
Barbara: Study first.
The nonprofit world is challenging to do long term. Our nonprofit, Iskashitaa, has been growing and struggling for 19 fruitful years which is an amazing feat in itself. Each year is packed with learning new cultures, new strategies, new experiences, and often new pain and suffering to witness but ever-growing individual impacts and community impacts. If you are an organization founder or considering it, make sure you want to do it long term, do the research and know the challenges. Join another non-profit first to gain experience before creating your own. Pay strict attention to life/work balance and healthy boundaries from the very beginning. Learn to say no and stick with it. Realize all brilliant ideas do not have to be pursued. Support your team as much as possible, allow them to make mistakes, be their positive role model (meaning show YOU have work/life balance), and never under-appreciate your volunteers and the community. Lastly, build your board strong and smart with clear expectations outlined.
Jessica: Do you think being a woman impacts any part of what you do differently than it might otherwise? If so, how?  
Barbara: Absolutely, women empowering women is a great example. Being genuine, being authentic even when it has the potential to hurt someone's feelings, keeping everyone safe from predation or harm, not needing to control everything, uplifting people, humanizing difficult experiences, allowing people to grow and make their own mistakes.
Jessica: Do you feel like your industry is male dominant? If so, has there been improvement in this area in recent years? why? 
Barbara: Male Domination? Early in my academic and first professional career as a geologist, the field was and still is male dominated. In the very different, non-profit world, of refugee resettlement only the highest positions seem to be male dominated. Presently, in my nonprofit world including the food bank industry, the highest decision making is often predominantly male, but the frontline workers are often a mix of diverse people, a spectrum from female to male.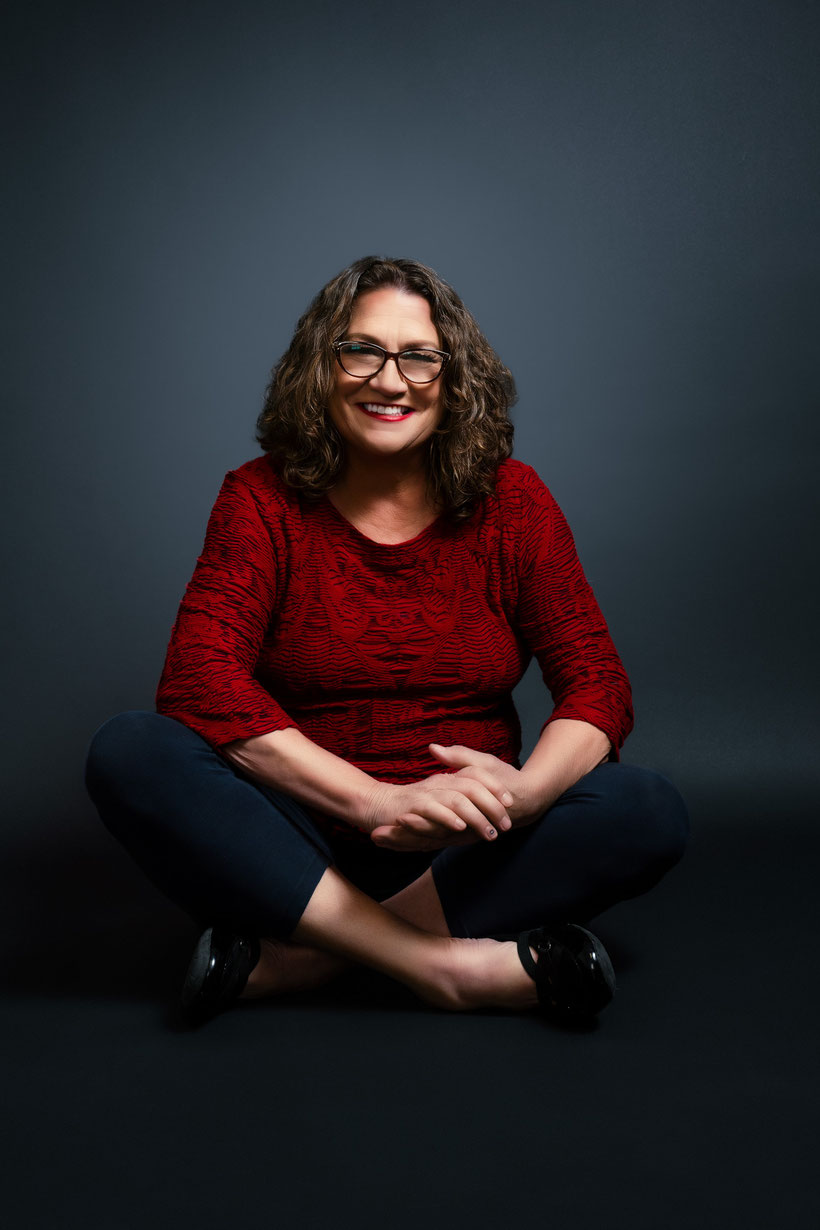 Jessica: What are some steps that individuals or society could take to support creating more gender balance in the future?
Barbara: Gender balance? Until we have women representing closer to 50% of the decision-making roles especially in politics, we will struggle to create a gender equitable society. 
Stop referring to women as girls when you do not refer to men as boys. If you "never know" at what age to call someone a woman, BE SAFE and say young woman because if you are uncertain at a given moment then I would say she most likely should be referred to as a woman and not a girl. Words matter, words are powerful, use gender equal words to work toward the belief in a gender equitable future. 
Check your own prejudices about qualities/expectations you view differently for the spectrum of women to men. If a suggestion in your board meeting or staff meeting is made by a woman and then repeated by a man, call them out. Create intentional space for everyone's voice. Give credit where credit is due.
Gender equitable efforts need to start on the local level and work toward national and international levels then I think this will help in working toward world peace.
Jessica: What was a struggle you remember facing when you began?  
Barbara: One of my first struggles was when refugees had the impression or misinformation that I was big bucks when I was volunteering my time and using my own monies to start the Budding the Grassroots organization.  Another struggle was when initially the resettlement community did not embrace our many efforts and progress toward assisting newly arrived refugees.
Jessica: What was a moment where you felt like you had to be brave? Something that was scary for you, but you got through it anyway?  
Barbara: Experiencing the joy and horror of visiting a large UN Refugee Camp, Kakuma in god forsaken place in rural Kenya serving refugees from more than 15 countries. While there bearing witness to the effects of genocide, intense deprivation, and cruelty yet providing hope to survivors was one of the hardest trip of my life. I had to get through it, visiting family members of refugees in Tucson, who had lost faith that they would ever leave the refugee camp after 20 years.
Jessica: What do you wish you had known when starting out?  
Barbara: I wish I knew how critical work/life balance is for success. I would encourage everyone to develop healthy boundaries from the get-go. I would put more value to my work and that of our teams. In my ignorance and inexperience in the nonprofit world when I started, I always thought great ideas and innovative replicable models would be financially supported. I was wrong not to ask for funding and donations from the beginning. When the funding does not come through, I do not recommend doing the work, which we often did along the way. I do not recommend working for free (as a volunteer director), which is what I did for the first 8 years of the organization.
Jessica:  What keeps you going? 
Barbara: Watching the transformation from newly arrived refugees to US citizens, seeing separated families reunited at the airport after years of longing, intense worrying, and fearing for their loved ones. Seeing the first family member graduate from High School, and/or University. Seeing people become first time homeowners. Seeing refugees giving back to Iskashitaa, creating their own nonprofits, making positive change and significant contributions to the community. Lastly, what keeps me going? Seeing injustice after injustice in housing, in court, on the street, in business transactions, in employment, in school all these examples lacking equity and dignity keep me going until all voices are valued and we come closer to equity for all.
Jessica: Do you have a favorite word? What is it and why?
Barbara: Yahoo for success, another favorite word is hope and of course Iskashitaa which means working cooperatively together. be the one who lights the darkness for others.
Jessica: If you could have one superpower what would it be?
Barbara: To airlift people out of violence: war, genocide, and persecution. 
My chosen super hero would be Mother Theresa.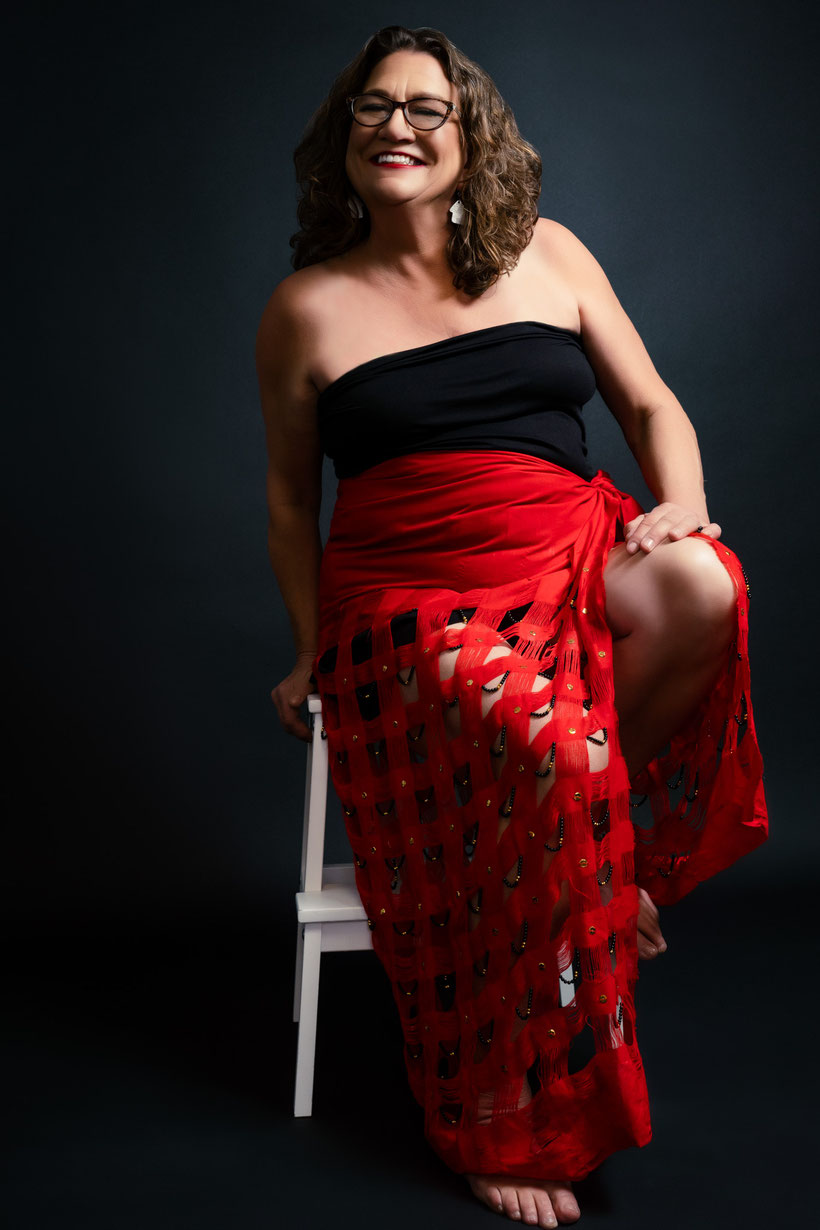 Jessica: Tell us about your awards, accolades and notable mentions!
Barbara: The Hon Kachina awarded in 2010, winning a White House video contest called Portraits of Compassion which led to us being invited to the White House not once but twice, being featured in an international documentary in Norway. The most recent notable accomplishment occurred this year, 2022 with the rolling out of two $5000 scholarships to be awarded annually. First, the Jim and Robbie Dick Social Justice Memorial Scholarship for high school seniors that have been active in social justice activities. Second, the Susan Marie Troutman Refugee Advancement Fund through the Aldag Family Foundation that allows IRN to reward multiple refugees funding who assist in our mission and vision with endless hours of volunteering to support educational pursuits and support other needs. These funds will allow individuals or families to advance their dreams with a total of $50,000 to spread over the next 10 years for both programs. These feel like great successes.
---
Jessica: Where would you like people to go to find you or find out more about what you do? Please provide links here:  
Barbara: website: www.iskashitaa.org 
Instagram: iskashitaa_rn 
Facebook: Iskashitaa Refugee Network 
Linkedin: Iskashitaa Refugee Network 
Youtube Channel:  Iskashitaa Refugee Network
---
Join us for the Success REfashiond Release Party!
Feb 20th, 2023 at 5pm, at The Bra Spa!