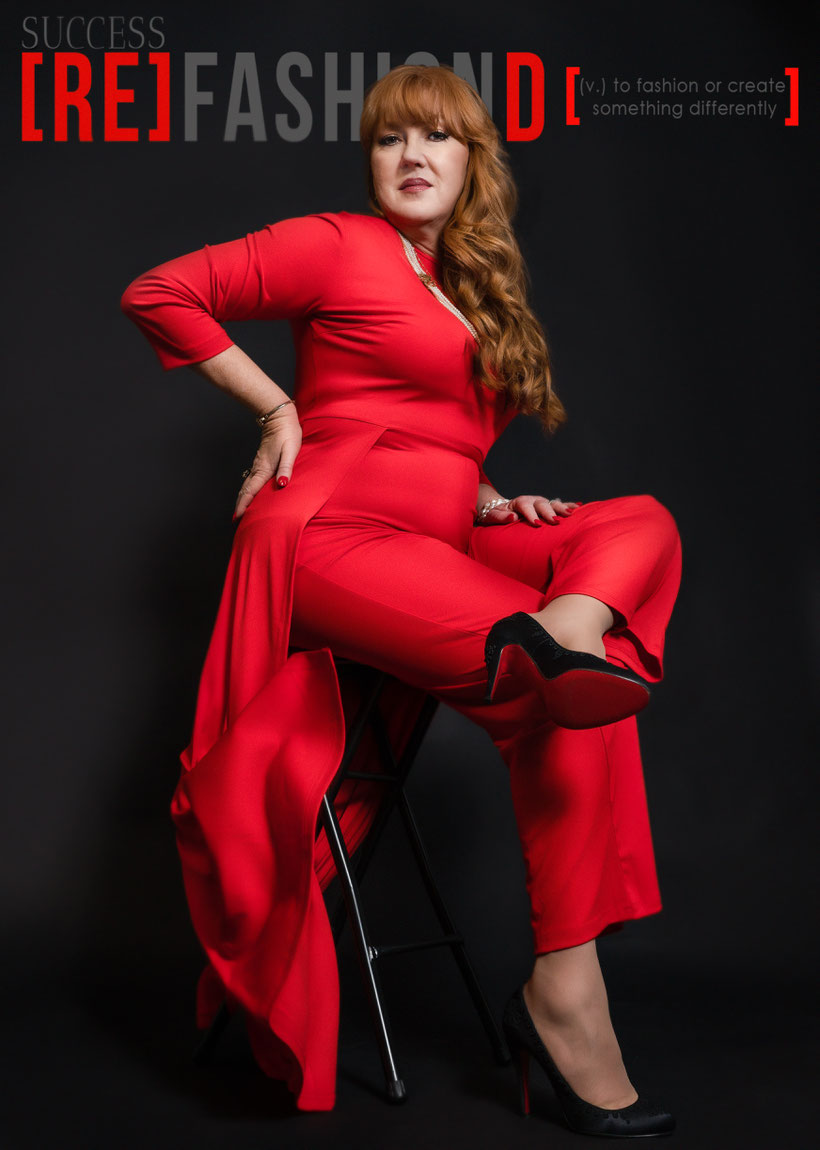 Whew! What a year last year was! And while we may not be completely out of the woods yet, I am so excited to begin bringing you this year's 2021 Top Tucson Women in Business! I can't believe we are already working on year 2 of our new magazine! Year one was a massive success and we are so excited for what we have in store for you this year!
By the way, how smokin does Cindy look!? I had so much fun with her in the studio! And I can't wait for you to read her full interview, and see even more of her photos coming up in the next edition of REfashiond Magazine! For now, please enjoy her sneak peek interview and photo!
Speaking of the magazine, have you picked yours up yet? 
If you haven't picked yours up, you still can! Get yours HERE.
---
Introducing Cindy Sheller
Being that it is already February, we are already rolling into our next 2021 feature, and the first one of the new year is no small fry. Her impact on our Tucson community is massive, as she brings care with dignity to those who need it, revenue, jobs and much needed knowledge and clarity for those caring for loved ones at home. 
Cindy's company, Caring Senior Service, surpassed 7 figures last year!… and that's important because the more you have the more you can give. According to Nawbo, only 4.2% of all women owned businesses have revenues of $1 million dollars or more. So how do we increase those numbers?
You may have heard it many times, but the more money women can make the more balance we can bring and the more difference we can make in this world. I truly believe that a world where more women are creating that kind of revenue is a world changed (Thank you to Rhonda Peoples for planting that seed in my brain so long ago). That, my friends, is why we must stop playing small and step into our power. Because we are world changers in the making.
Cindy also employs over 100 people, and they are still in need of more! She needs more CNA's willing to work with Covid positive patients, as well as more caregivers with experience. If you feel like you qualify for this, and you want to make a difference in the lives of those who are often forgotten and need this support now more than ever, then please reach out and apply. 
As if all of that isn't enough, she is kicking off a podcast THIS month! It's called Home Care Today, with the intention of helping families remove the mystique of home care and give them the confidence to handle things that may come up. It officially goes live Feb 25th at 3:30! You will be able to find that HERE>>
Her imprint on our community is significant, and I am so excited to bring her to you. 
---
Interview with Cindy
Jessica: What does RED symbolize for you?
Cindy: For many years business women were to be seen and not heard.  Things have certainly changed as women continue to shatter that glass ceiling.  I think Red is confidence - the color to blaze old and new trails unapologetically. 
Red is power, passion and purpose.  I love the color red, and it brings precious memories of my Grandmother.
When you first asked me about the color red I instantly thought of my Grandmother, Lila Lucille Milton.  My sister and I come from a long line of strong women, some boldly strong and some like my mother quiet but determined.  Of course my mother, always steady and loving taught us a different kind of bold.  Her bold was surviving a generation that made independence rare and difficult to achieve. You would be hard pressed to find a nicer gentler person than my mother.  
My Grandmother was boldly strong; she did not have an easy upbringing like many is her generation.  She had brothers and sisters she helped care for.  She worked in the cotton fields, baled hay and slung countless cups of joe at cafe's.  She ironed my Grandfather's shirts to a perfect starch and crease each week.  She taught herself to read and do her own accounting.  She wore Red.  
The color red she wore reminds me of the women in the 40's, beautiful and bold.  She always told us no matter what wear your lipstick, keep your nails nice.  No matter how hard we work we are still women and we know it.  When our Grandmother passed away some years back we were devastated.  I wore red nail polish for two years perhaps trying to preserve a piece of her memory.  She was a blessing to her friends, family, children, grandchildren and great grandchildren.  I simply love that when Grandma passed away, she had picked out her own gown of pink chiffon to rest in.  A beautiful blend of tough and classy.  
Her influence over my life gave me the courage, strength and pure Milton grit to never give up.  Red is a color I wear and never think twice about, because in my world red was never taboo it was the color of grit, great love and wisdom.  A picture of her is always with me and reminds me to be humble, to be kind, to be tough and to never give up.  The one thing about our matriarch is she never let us forget our humble beginnings.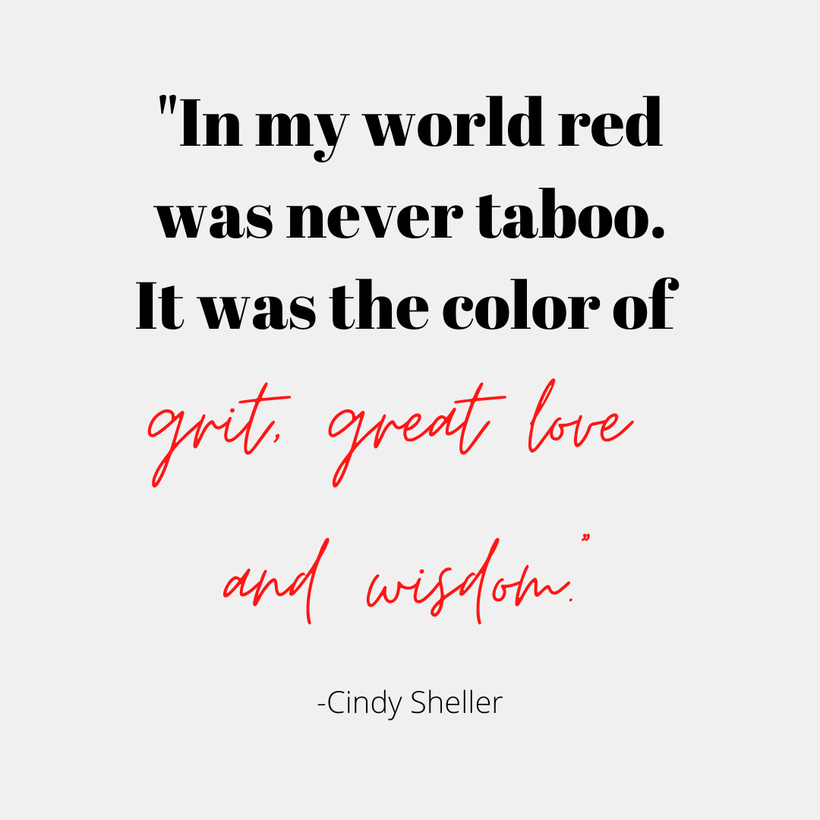 Jessica: What does Success REfashiond Mean to you?
Cindy: Now there's a loaded question!  It's funny because there have been specific times in my life;  in my career path where the answer to this would change based on the season in which you applied the question.  When I was younger, for whatever reason success was very important to me.  Being seen, being recognized, being rewarded, having recognition, being in an influential position.  And then being crushed when I was not recognized or worse the target of other women sand bagging my success.  There was a time that success meant making enough money in my job to survive financially for my family.
I ultimately found my self at the corner of fearless and terrified all in the same breath. I had found my tribe of women who were rooting for each other, supporting each other and not tearing each other down.  I have made lifelong friends with my eWomenNetwork sisters who had given me the courage to believe and accept that I would succeed.   I am an expert in my field, I needed to embrace that - once I did I was able to make the jump to starting my own agency.  
[Success Refashiond] means that more and more women are stepping into their power and out of the shadows. 
Jessica: Tell us more about you and what you do
Cindy: 
[On the Personal Side]: I am married to my husband Lee who is the Ying to my yang.  My oldest son Nick who will be 34 this year lives in San Antonio with his wife Sarah and our gorgeous 14 month old Grandbaby Audrey.  Our youngest son is Zachary who is now 12 and attends school at Tucson Hebrew Academy.  My mother lives with us along with Rocko our 105 lbs Boxer/Mastiff, Chewey the Yorkie and 9 chickens. 
My husband and I enjoy going to the shooting range for target practice.  We like to go fishing and definitely love to travel.  My secret pleasurer is being a news junkie and watching "crap TV and videos".  There is something about watching a show that isn't life or death, politics, etc.  it's just relaxing for some crazy reason.
[On the Business Side]: Our agency provides in home non medical care to seniors and the disabled.  This includes personal care, transportation, meal preparation, medication reminders, companionship, respite care, errand service and light housekeeping and care coordination.  That's the bones of it.  What we really do is support seniors who want to age in place at home safely.  We provide peace of mind to families so that they can live their daily lives knowing that their loved ones have the care and support they need.  
We specialize in helping folks with acute, chronic or terminal diagnosis.   This is possible with the help of our community partners that provide a higher skill level of care.  As our clients age in place they may need Skilled Home Health care which is generally paid for by their insurance for services such as physical or occupational therapy.  Or perhaps someone needs end of life care and we would assist in arranging hospice care services.  
Our goal is always to keep folks Healthy Happy Home.  Now if that's not possible because of safety we work with our community partners to help place them in a safe environment.  That might mean memory care, assisted living, etc.  We always strive for what is best for the highest good of our clients.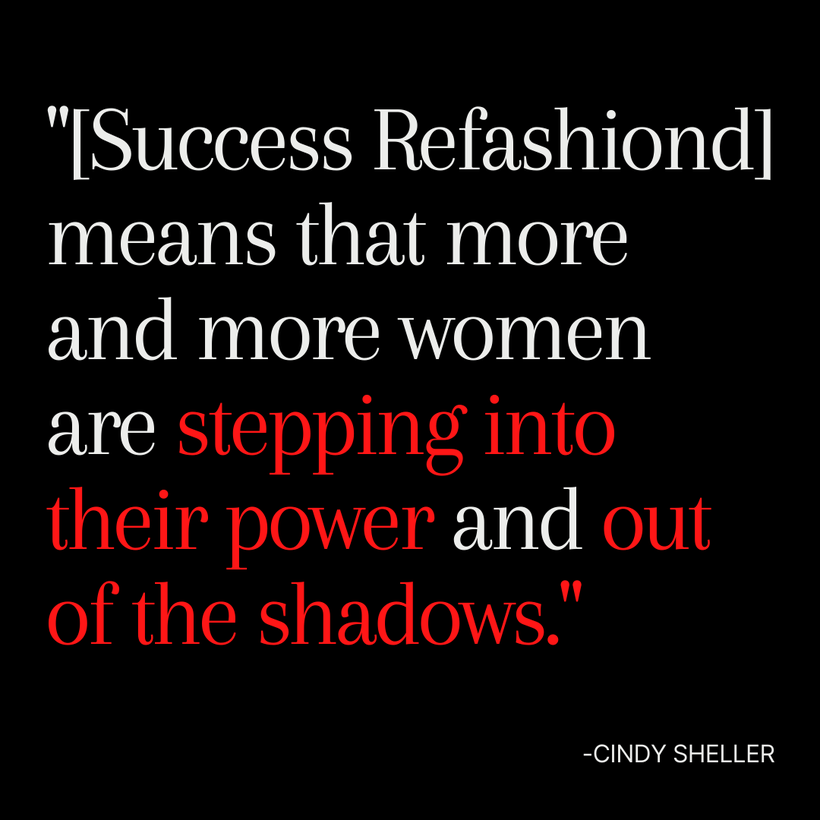 Jessica: What advice would you give to someone wanting to enter your industry or profession?
Cindy: We truly need more people with servant hearts to join our industry.  You don't have to be an expert in healthcare to own an agency.  What you do need is tenacity, a servant heart, compassion grit, a bit of capital, the sheer will and desire to succeed.  In our business the day doesn't end at 5pm, it's 24/7.  In order to be successful in our industry you have to be willing to work, to bend, to be flexible.  From a business perspective it can be a roller coaster.  You truly get out of it what you put into it.
If you're looking to just make lot's of money and selling your services like a car you probably won't be successful.  We have seen owners come and go in our industry.  Often times it's because they either don't put the work into it or their intentions are not authentic.  People are smart and they can tell if you truly care about their loved one or if your just trying to land a client.
The need for more owner's in our organization grows greater by the day. 
Jessica: I feel like 2020 was such a year of redefining. I think we have redefined what was important to us the most and kind of redefined what it look like for us to connect, it redefined family, and networking and so many things.  
What did you redefine in 2020 that became a good thing that you are taking forward?
Cindy: Goodness. That's a really good question. I feel that there has been so much loss that happened in 2020. And it's really about making sure that we're paying attention to the people we love and supporting them in any way that we can so for example in our business of senior care. Our families aren't able to see their loved ones in the hospital in the skilled nursing facility, even in their assisted living facilities and sometimes at home. 
I feel like we are more intentional about our conversations with family, with friends with colleagues. Last year was the first year that we were really able as a company to give back to our community. And that felt really good. To be able to give to the harmony house and to be able to give to a single mom and her family over the holidays, through nawbo. 
I do think our responsibility as women leaders and business owners, is that as we are more successful that we're giving back. And the more you make you more the more you can give, and that's always been one of my goals. So, I feel like that's gonna go through in the future, is making sure that we're really intentional about how we're giving and who we're giving to. And how does that go to our goal of lifting as we climb, who are we supporting, and how are we sharing our knowledge.
Being brave is one of my themes for this year so doing our podcast, which will be called Home Care today and launches in February, and the whole intention behind that is to take the brain trust of myself and my colleagues in healthcare, and give that to the community so that they, they're not so panicked when something happens to mom or dad or grandma or grandpa, they least have an idea of who they can call. And they have more knowledge about what to do when a crisis happens. And better yet, what to do before a crisis happens.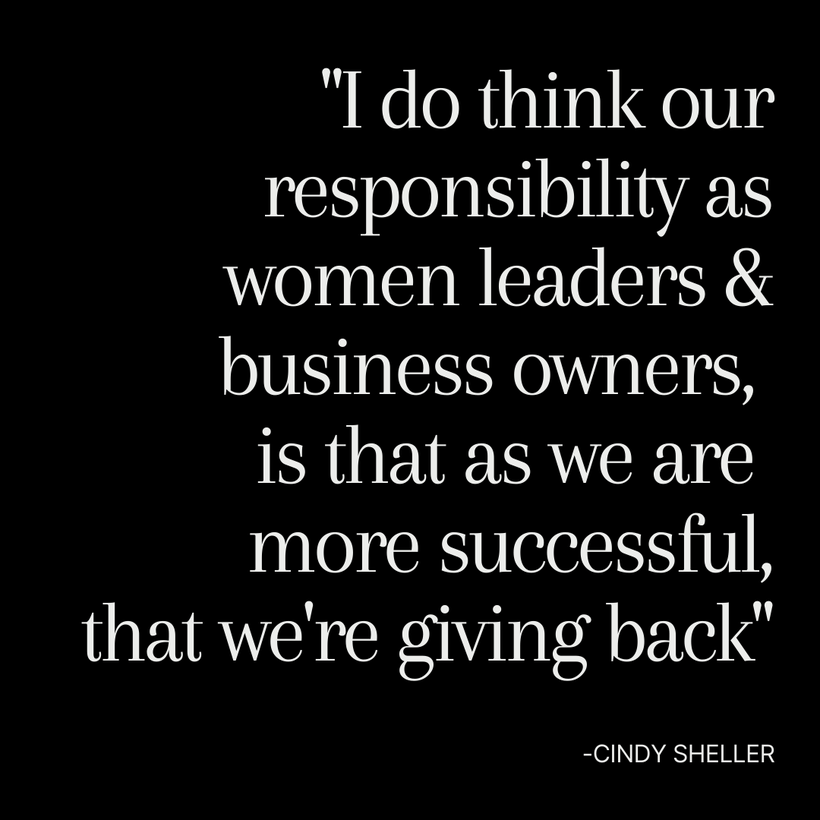 Jessica: What are you curious about right now?
Cindy: You ask some hard questions girl! What am I curious about? I'm really curious. I think in the business sense, it's interesting because there's such a shortage of caregivers and medical personnel. And I have to fall back on how are governmental leaders going to fix this. 
There are so many people that haven't been vaccinated because they don't happen to be in health care because they don't happen to be an essential business. And we need to get everybody vaccinated, and it would be nice if if all the conspiracy stuff could just stop. You know I feel like our jobs as health care professionals is to protect our community. And these conspiracy theories aren't helping and it's going to be more and more prevalent that people are going to require that you have your vaccination to be in their inner circle, to protect themselves. And do we know that the vaccine, what the effects are going to be 30 years from now. No, but it's the stock that we have to take just like every other pandemic in history. You have to do what you can. 
So I'm curious about how we, as a society, move forward after such a tumultuous few months. And, how we get beyond the fringe in the fray and come back to center. How do we get back to center. And how do we help each other get back to center. Because I feel like we live in a really fragmented world right now, so how do we get out of that and keep moving forward. That's what I'm curious about.
Jessica: Are there any resources that have really helped you on your overall business journey? 
Cindy: Two words...my tribe.  I would not have made it without my tribe of incredible people who lifted me up.  My memberships in [BNI and eWomenNetwork] have been worth their weight in gold.  It's all about relationships, you won't get far without them.
Jessica: Tell us more about your new podcast!
Cindy: My new podcast - "Home Care Today" this will launch February 25th.  Our goal is to bring on experts to help our community navigate the healthcare and homecare system.  To lift that veil of mystery of what's next when a loved one falls or is unsafe to live alone any longer.  I'm sure the show will evolve as all things do over time.  I hope to bring knowledge that is useful, a bit of fun and quality content for the community.  I believe that knowledge should be shared and not just sit in someone's head like luggage in a closet waiting to go on a trip!  Stay tuned and be kind, after all it is my first podcast.  https://businessradiox.com/tucsonbusinessradio/ 
---
---
If you want to be more connected with our local women in business, if you want to rise together, grow and get inspired, make sure to join the conversations inside our free fb community group: Women Refashioning Success- Arizona
---
Are you joining us at the launch party!? Save the date! 
When: 
February 12th at 2pm! 
See you there, and wear your red! 
Where: 
Karen Lukacs studio:
2456 N Pantano Rd
Tucson, Arizona 85715
AND get your copy of the 2nd edition of Success Refashiond Magazine Below! 
A limited number of copies will be available on site.