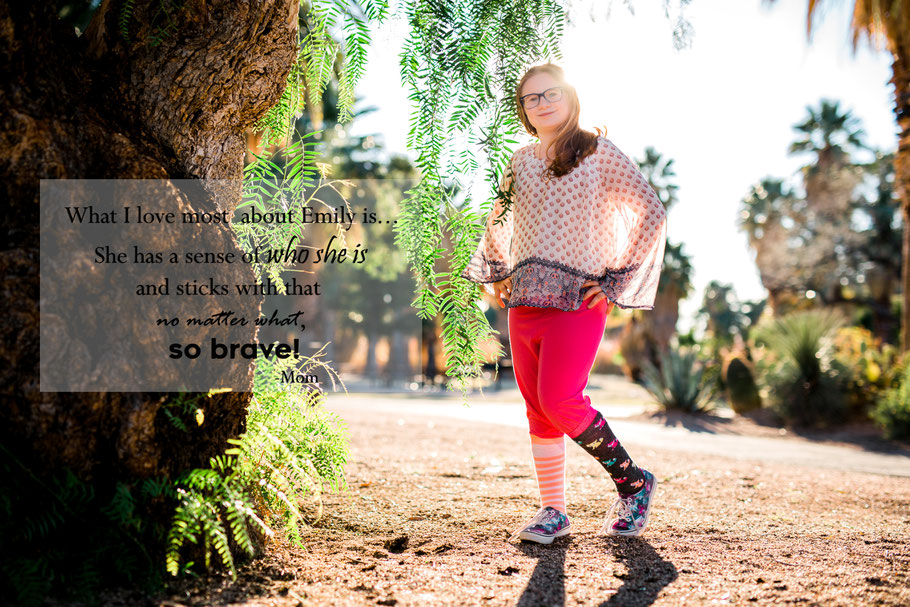 Kind. Bold. Intelligent. 
This is Emily.
This is the Who I Am Project. 
From the moment I met Emily, I adored her. She already exudes the kind of self confidence that most kids her age only dream of, some adults for that matter. She loves everything about herself, and she loves to stand out from the crowd.
This project meant to reinforce what she already knows. To show her what her family thinks of her, to build on and give her unshakable confidence BEFORE she hits junior high. 
As the filled out questionnaires came rolling in, I was touched by some of the amazing things her family had to say. Her Grammy's stories of laughter,  her best friend gushed about her being THE BEST friend she had ever had in her WHOLE LIFE!! How amazing to hear the impact you are on someone else, her step dad commented on how she changed his life... and the wishes her mother had for her.... Seriously... I had goosebumps thinking about how she might react during her image reveal, and watching her slideshow, as I put it together, even made my own eyes swell a little.
The preteen years are some of the most un photographed years of a child's life, and as it turns out, it is one of the most important parts of our children's lives for self confidence.  Being strong in who they are gives them the confidence to stand up against the judgement and pressure of their peers. 
I loved everything about getting to know Emily, and we had a blast with her science project! She is seriously one smart and amazing kid... but don't take my word for it, I will let the words and images speak for themselves. 
**For more about this project check out The Empowerment Project. If you would like to learn more about how your child can participate in the Empowerment Project, please contact me to find out how!