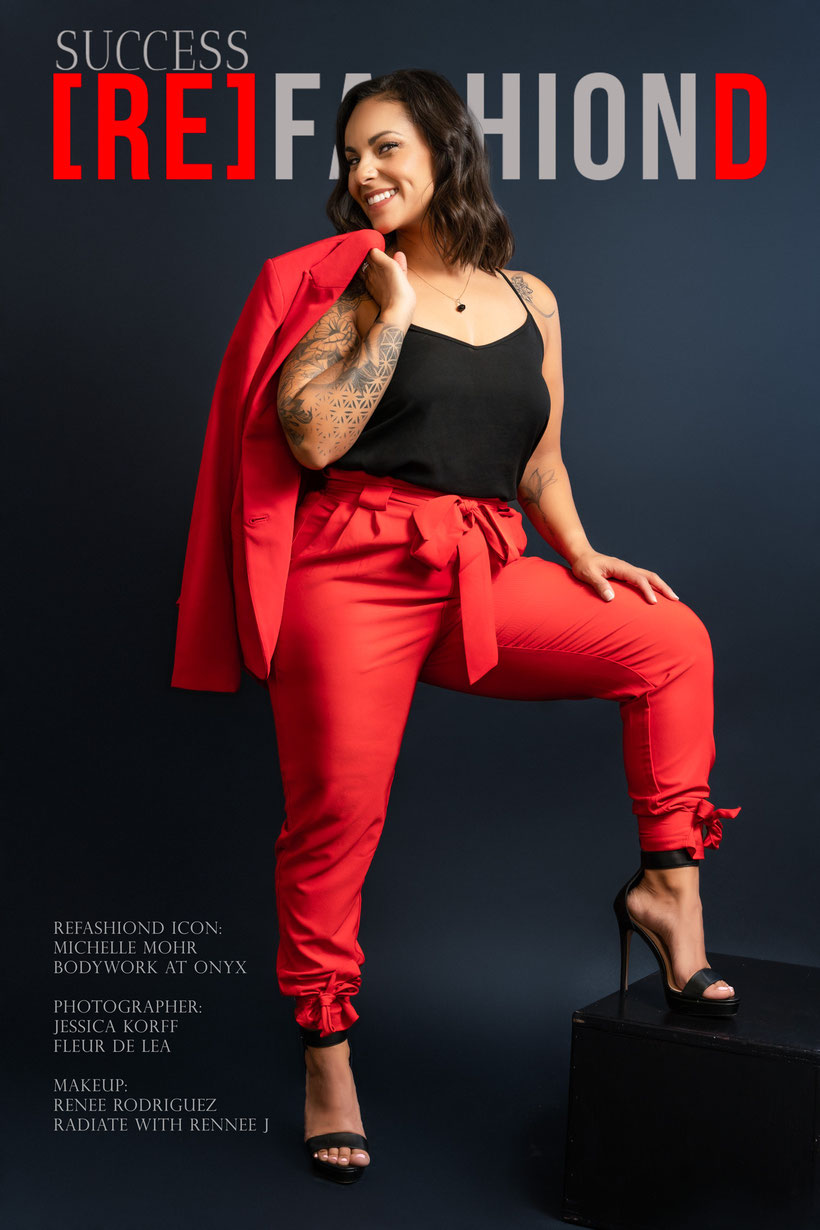 Wow. Our next Success REfashiond Icon, Michelle Mohr, is incredible. She has such a fun and peaceful way about her, and brought such fantastic energy into the studio. You literally can't not smile while in her space. She writes well, she has a beautiful heart, and she is kicking ass and taking names. Literally, and figuratively, since she is also a gym owner. And she isn't done yet, she has a pretty huge BHAG (Big Hairy Audacious Goal) she talks about below, and I can't wait to see her accomplish it. 
When spending time in her space, you can tell everything about her is genuine, what you see is what you get. And what you get is honesty and love. You also get a powerhouse, even if she may not completely describe herself as such.
It has been such a pleasure for me to get to know Michelle these last couple of years and I was THRILLED when I saw her nomination come across my desk marked "YES!" by our selection committee. And I think you will love learning about her more below too.
---
Interview with Michelle Mohr
Jessica: What does RED symbolize for you?
Michelle: Bold and powerful.
It is a color that stands out amongst the rest. 
Not so muted as the believable blue and says listen to me, I am important and I've got important things to share I've got important things to do so come along and walk beside me so you can say and do as well! 
It makes you feel in charge and dare I say sexy, oh yes I sure will say it. Red, a color that will forever be timeless and associated with power. It is said by some that red is an angry color but what did the color red ever do to you?
It isn't the color of our Root Chakra for no reason. It supports you and is an affirmation of who you are. It keeps you grounded to the earth and rooted in your true being. RED the color of blood that forever gives life to this planet and is necessary just as air.
Jessica: What does Success REfashiond Mean to you? 
Michelle: This is going to be a movement if it isn't already. Women are beautiful and amazing and to celebrate each and every single one as she reaches new heights in all aspects of her life is necessary. So many times we can go unseen and unheard but with Refashioned that will no longer be the case. Women are pivotal to the success of all facets of life and as such WOMEN NEED to be celebrated for our accomplishments, small and big.
Jessica: Tell us about you.
Michelle: Who Is Michelle? I am a mom of three pretty amazing humans. When we are all home together we love to watch the Arizona Cardinals (football) and the Yankees play and doing their thang. All comedy shows and anything sports related really. Our family is very close. We have family dinners and spend time doing nothing. Going on vacations to celebrate the life of my Papi who passed away in 2018.
I love the outdoors (during the day) hiking and some high heat running, I have completed a few triathlons and there is just something about getting away and embracing the mind-body-nature connection by becoming one with my surroundings. I love with such passion my tribe, my clients and nature so whenever I have the opportunity to combine my passions and do what I love with the people I love I am able to maintain a full heart, clear mind and serve others more effectively.
I am a book worm. I have about one or two sometimes three books going at the same time. Poetry is what I do on my downtime. I write stories and poems and my feelings in a journal, okay maybe I've got an obsession with journals so truthfully I have about 3 going at a time just like my books. I am that person at the top of Gates Pass in the late evening meditating and in awe with the full moon and the great skies above us.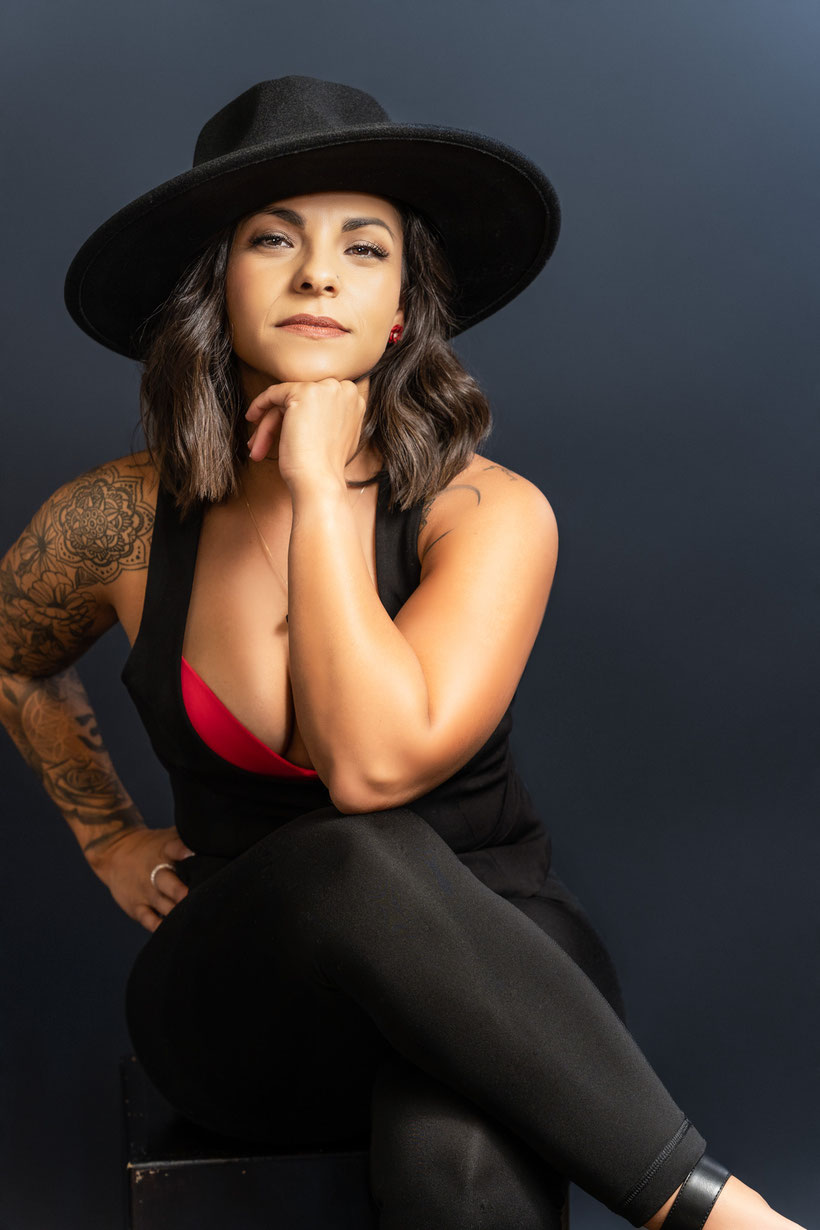 Jessica: Tell us about what you do.
Michelle: I am a licensed massage therapist, certified personal trainer and offer one-on-one pilates sessions, AKA a bodyworker and movement specialist, and the OWNER of my biggest dream yet, a GYM known as Bodywork @ Onyx. This is where the magic happens. I show clients that they are more powerful when they believe in themselves just as I believe in them. I show them that taking the time to allow themselves some down time is key to being able to show up 100% in all aspects of their life. I help women believe that they should feel safe, powerful, healthy and beautiful in their own skin and to never put themselves last in being taken care of.
Jessica: Why is the work you do so important?
Michelle: My boutique gym is a safe place for women to find their place in a predominantly male industry. I think the fact that I can relate to my clients on a personal level and I do not sugar coat things, as facts are stubborn, makes me human to them and attaining their fitness and wellness goals are in fact a byproduct of their consistency and will to keep going even when it gets hard. I offer my knowledge and support as people find their way especially when the idea of giving up is easier than pushing through the hard moments. When I get the text message from clients who see the results from their hard work it validates the reason why I am here doing what I am most passionate about. It is not just about getting abs or being "skinny" but about moving better with zero pain, putting on those jeans that fit too snug a few months back only to realize that they now have to buy a new "favorite" pair of jeans. That is why what I do and so many of my female counterparts do what we do. Offering change to someone's life by just providing the tools, and maybe one or twenty extra reps by accident hahaha, is the fuel to the fire of my reason for doing this.
I opened the gym with a few extra reasons that are held very near and dear to my heart. My Pops. You see, growing up he was very active and played soccer for many years loved to dance and sing and do the regular things we do daily. He instilled the importance of being active and playing any and all sports possible to myself and my brother. When he fell ill with diabetes it was then that we saw a change his physical and mental health. He ended up becoming wheelchair bound and as a result it dimmed his light for life a bit. His movement became less and less as the pain from so many things going wrong physically took over until he just couldn't fight the many ailments his body endured. I promised him that I would do my best to help others keep moving. Never taking the ability to run and go outdoors to hike or lift a weight for granted. I pinky promised him and so the birth of Bodywork @ Onyx was born right there in the hospice of the VA only 2 days before he left the physical world.
Jessica: What's a common myth about your industry or business?
Michelle: Only men know how to train and run a gym. I am and the many jaw dropping women I surround myself with are the debunk LOL totally kidding but in all seriousness women have made huge strides in the fitness industry and have truly inspired me to never feel like I am less than the person next to me man or woman. Women are rising in many places that are typically overrun by men! I have been able to show women of all ages and fitness levels that they can in fact work out at a gym and NOT just do cardio for hours. That they do not need to compete with the person next to them because meeting your body mind and soul exactly where it is, is exactly where they need to be.
Jessica: Who are a few women who made huge influences on your life?
Michelle: My Mom is the number one person who has made the biggest influence in my life. She has supported me from day one with all of my crazy ideas and let me run with it. From my first "hustle" as a little during the summer kidco program at Archer Center here in town. She would take me to the Chocolate Iguana on 4th ave and let me buy the jaw breakers of all sizes and in turn let me sell them at the day camp to make some money for my summers. Man those were the days. This woman is a true Angel on Earth. She never missed a soccer game, swim meet, volleyball or basketball game. She has stood by me through some of the hardest decisions of my life good and bad. Offering her love and support. She is the lighthouse of my life. Steady strong and true waiting for me with the light on ready to laugh at my craziness, cry with me or threaten to choke me out with the death stare that moms do. 
My Dad. He obviously is not a woman but let me tell you something. That man celebrated the successes of my mom like it was his success story. He was always so proud of her. That translated to how he loved and supported me through my career changes and life changes. Sat there to listen to my crazy ideas just like my mama does. He would play the devils advocate and ask so many questions before telling me what he thought but never talked me out of whatever it was I was presenting to him. He instilled in me, the power of being a powerful woman. To speak my mind but doing it classy with a stern voice and standing my ground. He taught me to never give up on the things that I want and to do it with conviction. 
My parents the strength and support all wrapped into two beautiful humans I am so blessed to have them as mine.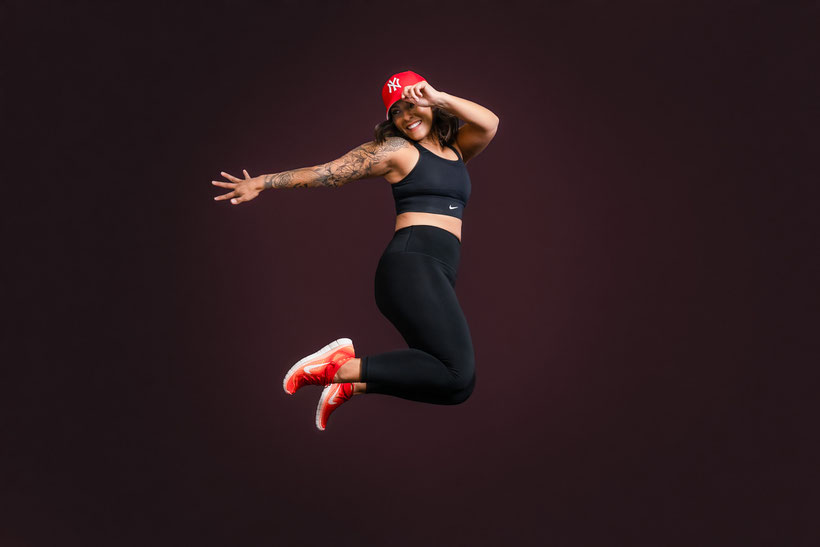 Jessica: What was a moment where you felt like you had to be brave?
Michelle: In 2010 I was diagnosed with a brain tumor. I remember the morning that my doctor called me as I was driving to work one morning. I was literally passing the underpass at I10 and grant rd. He asked me to come to the office that morning but I told him that I had to get to work and open the bank so most likely that was a nope on my end LOL. I was clearly in denial and I knew immediately that when a doctor asks that you come in to the office to discuss results from my first MRI it was not going to be the news I wanted. Well the crazy Michelle proceeded to work that morning until the rest of my family heard the news and they all freaked out. I frankly didn't have time for the tumor to be a nuisance in my life so I ignored the fact that it was a real medical issue. After a few more MRI's and other tests we concluded that it was benign but in a really shitty place in the base of the brain known as the optic chiasm. In other words, it was sitting on my optic nerve and any further growth would cause blindness or vision issues. Well, I decided to wait a year cause I was busy with life and finally couldn't take the headaches and life altering discomforts that came along with the tumor. August 2011 it was removed and I am now a proud owner of my very own titanium plate with a few loose screws on the right side of my head. Life throws things at you that will scare you to the core but positivity love and courage is what will set the tone for not only that moment but the rest of your life!
Jessica: What is your biggest accomplishment?
Michelle: To be dead honest I started my college career already a momma. My mini me was 1 month old when I graduated high school. The blueprint to my life was completely changed from wanting to be scouted to play soccer for a world renowned university to staying local and grinding my way in the books and holding a 30hour a week job. My family was a huge part to my success and I am forever grateful. I believed that because had such a strong foundation and never once allowed to give up on any of my dreams. My accomplishments have been with my whole family walking by my side every single step and every single fall back. I left a great financial career to follow the dreams of becoming a massage therapist and personal trainer
Jessica: What do you wish you had known when starting out? 
Michelle: How much you speak to yourself on a daily basis. So many one off conversations with the morning afternoon and evening you. LOL Mini employee meetings all damn day long. Because that is so true, you better make many of those conversations positive. Believe in your work and nothing will stop you from achieving greatness. Business ownership of any type is not for the faint of heart but it is so worth it. Failing forward is a true statement in the business ownership world. If you can grasp that concept and run with it you are golden. DO NOT procrastinate. It's all fun and games until it's too late.
Jessica: What is one of your biggest goals you want to accomplish for yourself?
Michelle: I am embarking on a journey to defy all the odds of the sports world. I am beginning to train to tryout for one of the women's professional soccer teams of the west coast preferably as I am a Cali girl at heart. Ultimately the end goal is try out and okay even mins on the US women's team as one of the "oldest" players.
I have had a dream since I can remember, and it has changed a bit from time to time but currently it keeps coming up as a news headline reading "Michelle has defied all odds, including age restrictions and changed the face of women's sports forever" mark my words I will sit on those benches. It will require me to step way out of my zones of comfiest in all areas of life but it can and will be done.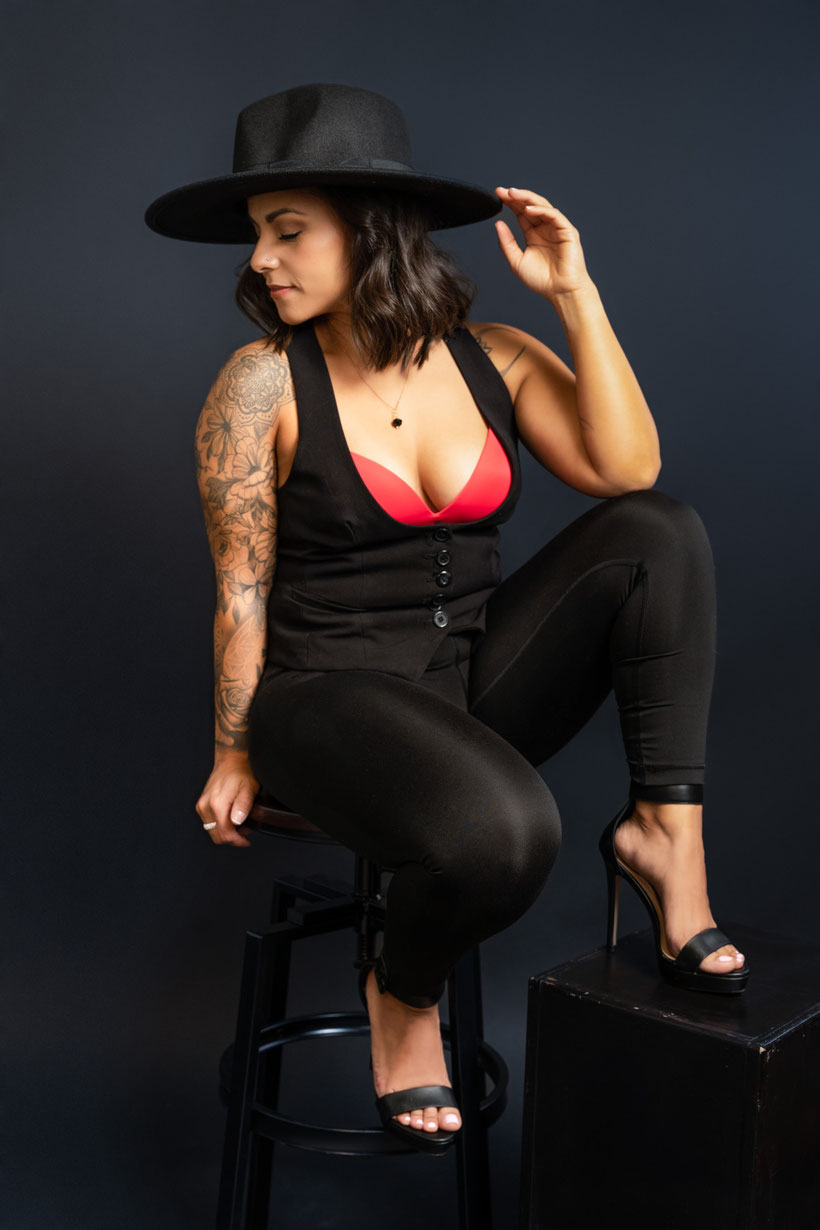 Jessica: Are there any resources that have really helped you on your overall business journey?
Michelle: I always thought that having a business coach was for really wealthy business owners. Well turns out I am not a really wealthy business owner but I needed one anyway. She's helped me make so much sense in my day to day routine which has trickled down into my personal life as well. 
Family still comes first no matter how invested I am in my business. For a moment there I lost myself in my business running 13-15 hour days. Not so bueno when you also have a family to take care of.
Jessica: What is your favorite quote?
Michelle: "We can do hard things" Glennon Doyle For those that know me or have taken any kind of one on one training or group fitness class with me I use this all the time
Jessica: What are you curious about right now?
Michelle: I am ready to expand my Pilates practice so looking to add more continuing education into the mix and get more reformers added to the gym.
Jessica: Do you have a favorite local restaurant? What's your favorite dish? Tell us about it!
Michelle: Floras Market Run, I know this is going to sound so basic but they have the best wood fired artisan pizza with the green goddess ranch...TO die for and the merlot to pair.
Jessica: What's Your hype song? What is the song you would walk out on stage to?
Michelle: Music is my love language. But my hype song for "stage walking" would be Wolves by Big Sean and Post Malone. 
This is that one song that just makes you get into the zone when either working, working out or just driving you get that head nod and shoulder shimmy going, It's a whole typa' vibe.
Jessica: Do you have a favorite word?
Michelle: Love. 
Maybe I overuse it, maybe it loses its power when I use it to describe things but honestly I don't really care. 
I actually love my clients every single one of them. I love what I do because it has given me a life that I am so blessed to have. I love hard and I love creating and being part of my clients stories as they change and shift into even more amazing humans. 
I love my kids more than anything else on this planet and I love that I can embarrass them by hugging and kissing them. 
Love, it is so powerful that one can describe everything in their life but yet it is still just a word. 
It is so powerful that when you pull into a coffeeshop but stop before entering to give your soulmate a kiss and as you walk in to order that coffee a stranger stops you to tell you that she loves your love. How powerful is that. Again just a word but it is seen and felt.
LOVE. Undeniably my most favorite word.
Jessica: Tell me something that's true that almost nobody agrees with you on.
Michelle: Pineapple DOES BELONG on pizza. Fight me haha
Jessica: Where would you like people to go to find you or find out more about what you do? 
Michelle: @Bodywork_at_onyx on instagram 
https://www.facebook.com/bodyworkonyx/ 
to schedule massage: 
---
Know someone you would love to nominate for our next edition?
Email us at Jessica@TheRedMag.com and tell us all about her!
Creation Credits:
REfashiond Icon: Michelle Mohr | Bodywork at Onyx
Photographer: Jessica Korff | Fleur de Lea Photography
Makeup: Renee Rodrigueze | Radiate with Renee J