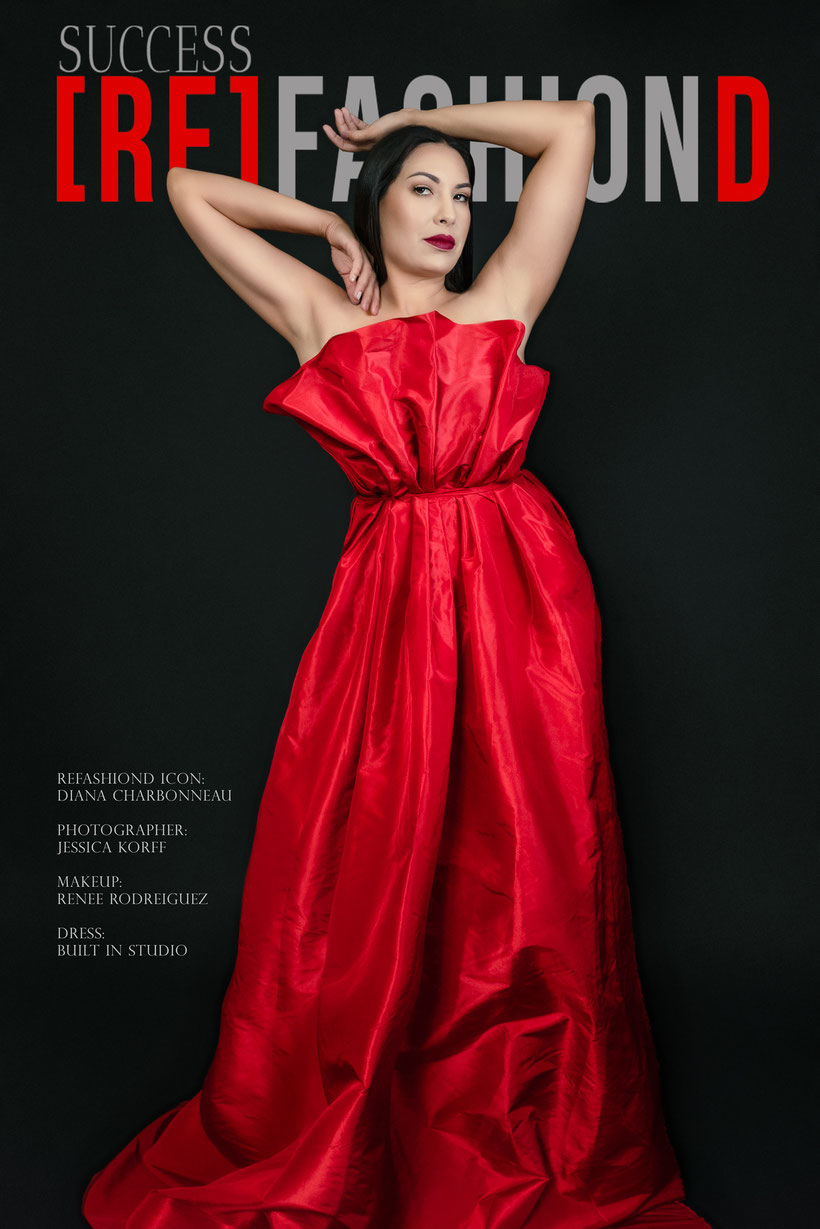 When I first met Diana, she was attending my BNI meeting as a visitor, and talking about an incredible program she was representing that helped kids create an idea and turn into a full fledged legal business. I reached out to her to put one of my kids in the program and have followed her work and journey ever since. 
Diana is heavily immersed in the non-profit world, she believes in giving back and giving back often, and it shows. She cares about her community and does everything she can to make an impact in the lives of people now and setting up change for the future. She is truly someone who carries the heart of exactly what this magazine is... stepping into your power, up to the plate and making an impact. 
She is also a master networker, and more than likely you know her, or know someone who does. She knows that making connections is an integral part of making a difference.
I am incredibly excited to share her and all the things she is doing in our community with you! So I will hold you hostage no more.
---
Interview with Diana Charbonneau
Jessica: What does Red mean to you?
Diana: Well I think is a really big power color obviously but honestly, I did not like red and especially growing up I never would have worn red. It wasn't something that appealed to me, standing out; but when I went into finance as a career I would wear red lipstick a lot just because it is it's very attention getting, you know, grabbing people. They tend to pay more attention to what I am saying and I have big lips so you know people will actually listen to what I'm saying, at least hopefully that's the goal there.  But yeah, red is a very powerful color and you know the color of love, and really when I think of red and I think of Refashiond now because of your branding!
Jessica: What does Success REfashiond mean to you?
Diana: Success REfashiond means a lot of things to me, but the 1st thing that comes to mind is how different success looks now for women than it did throughout history. Nowadays a woman has the opportunity to completely refashion and be successful on their own. Success can mean so many things from family life to business to celebrating friendships and mentorships. We have the ability to be successful in so many avenues!
Jessica: Tell us about you!
Diana: I am a Tucson native for the most part and went to college in Washington DC where I changed my major 3-4 times and almost failed out of school twice working more than I went to classes, but stuck through and graduated with a B.A. in Sociology. DC is where I got my Passion for volunteering that translated to our local community once I got back home.  As cliché as it may sound, I truly enjoy volunteering, being involved in the community and giving back my time to our local organizations. Mentorship has been a large part of my life and I'm grateful for my role models like my mother. I am the new president for AAUW the Tucson branch furthering a Passion of mine for gender equality.  I got married in 2016 to my incredible husband who is the rock to my tornado and the proud mom to an almost two-year-old toddler (who has opened my eyes to the many challenges that our families around us face). I enjoy camping and spending time with the family and pups outdoors - we just got back from a trip to the mountains with no cell service and loved every second. In my early twenties, I was diagnosed with a stomach disease (Gastroparesis) and have burnt out several times in my professional journey. Personal and professional development are a big part of my life and I'm continually trying to build upon myself to be all that I can be.
Jessica: Tell us about what you do:
Diana: I like to say that I am a community connector with a vast network of people that like to connect and create opportunities, especially for our young professionals.
Professionally, I am the Development Coordinator at IMPACT of Southern Arizona which is an amazing organization that I am proud to be a part of (www.impactsoaz.org). Working for an organization that reinvests $2.5 million dollars into the community each year helping people pursue an enhanced quality of life is a meaningful work that really ties perfectly with my community involvement. As the President of AAUW Tucson, I work to connect women with resources and opportunities to help them be successful in their lives and careers - through seminars on negotiating pay raises and working on key pieces of legislature among many things.
I serve as the Communications Chair for the Emerging Leaders Council of the Tucson Metro Chamber where we stay up front on important local issues while receiving mentorship from C-suite level individuals in the community. This mentorship has changed my life, viewpoint, and future career paths to come I'm sure. I proudly serve on the Board of Directors for Junior Achievement of Southern Arizona which is financial literacy and entrepreneurial skills in our elementary - high schools. Financial literacy is a Passion of mine and I encourage everyone to have a plan for the future. I am working on walking the walk, not just talking the talk and hope that I can leave a legacy behind for my baby girl.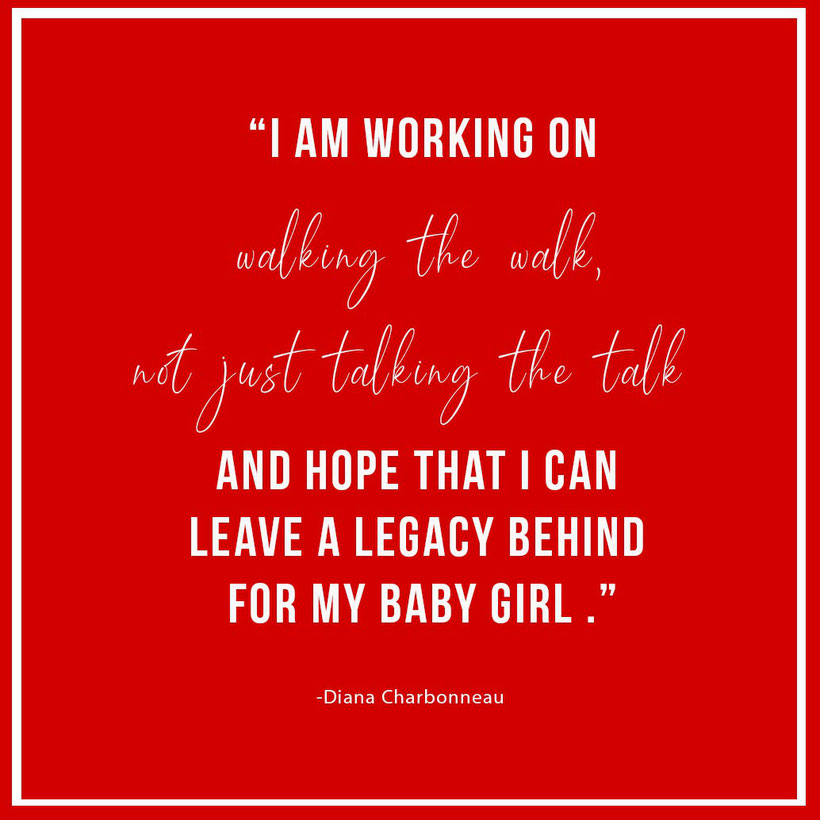 Jessica: What are you curious about right now.
Diana: I'm curious about what the world will look like when Danica gets older. If anything has changed, if any of the things that we have been working on will move the needle and make a difference, or  if it will just be all out anarchy by then and you know at least we enjoyed our time while we were here. But I'm just really curious what life will look like as we get further, I'm a futuristic person, I like to think forward but I'm very realistic, living in the now, and just that thought of what it'll look like when Danica gets older and what, you know, politics will look like, education, our economic development, what the country will look like.
Jessica: Who are three women that have been the most influential on you?
Diana: You know, obviously my mom, she was a single mom and I definitely got my work ethic from her. I've been working since I was 13, usually at jobs with her, and she just always worked, she was always taking pictures, even when she was working out in jobs, my dad was retired when they were married, so my mom was always the one that worked and I'd go with her to random jobs, and she just always just kept going. I don't think she ever had the intention of owning the business she has today or running one and doing what she is with real estate photography but she does it all on her own. She manages it entirely, and does a very good job in it so, you know, she's obviously been a big influence.
I've got some big mentors in my life, Stephanie Bermudez would be one of them. We worked together when I very first came back from college so we connected before I was even here. She left where we worked, and took off like a butterfly and really brought me into a lot of the things I'm involved in today, Tucson young professionals being the big one, so that was kind of my first step into professional and community involvement at the level that I wound up going. And it was because of her I also went and ran the Young Entrepreneurs Academy with her, and we would circle back around. And we do that. We have this habit of coming back around and meeting at really impactful times in our lives and helping each other so she's a big one.
And I mean, really, I know it's like kind of cliche but it's all of the women around me that I have witnessed. When I was going to get pregnant, because I'm a planner, I met with a bunch of CEOs, a bunch of professional women and I asked them, you know, what were your struggles, how did you do it, how did you manage it, how was it, did you survive. And it's thanks to those women meeting with me, giving me their time, and really, the mentors I've had have shifted and changed my career, my financial life. It wasn't for those women looking out for each other that helped me continue to try giving back and to mentor down as much as I've been mentored. I feel like that is really what has made the biggest difference, because I've taken a little bit of something from everybody, and everybody's different, you know, you can't be like everybody, because you are yourself, so I feel like I'm an accumulation of all of those people together.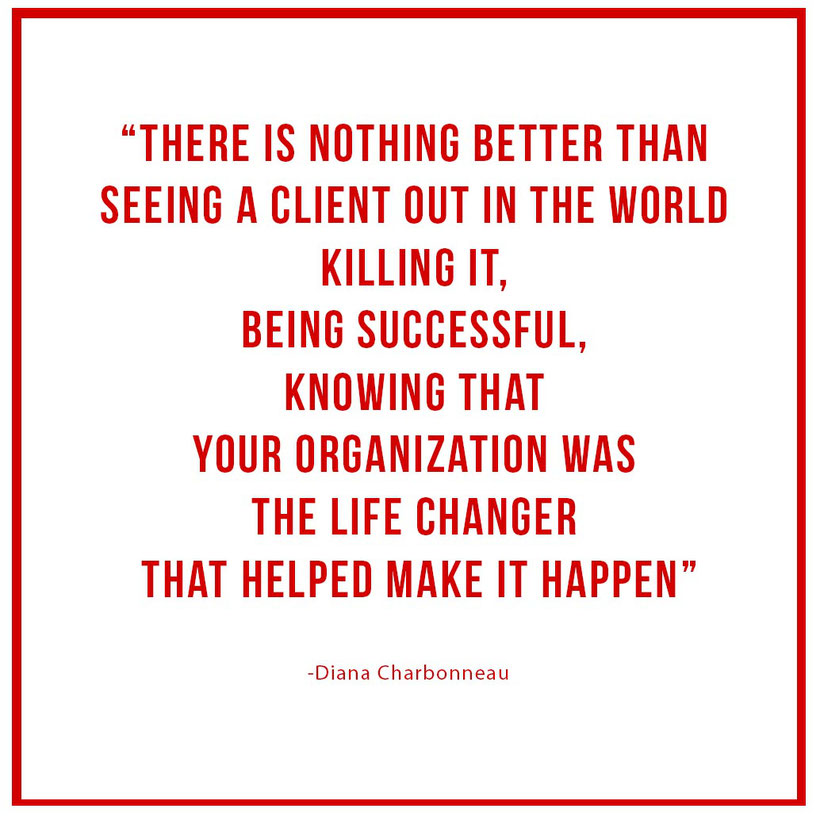 Jessica: What advice would you give to someone wanting to enter your industry or profession? 
Diana: Many people get into the non-profit industry because they have a passion to help people, animals or a passion for some type of cause. Sometimes that blinding passion is not business skills, customer service or accounting, but you can make such a difference with that passion. Coming into the non-profit Industry is not easy sometimes, especially as a fundraiser asking for money....basically always. If you work with animals or in animal shelters, burnout is a REAL thing. When you see the pretty bad situations that so many people are in that and you want to help everyone with only so many resources available, it can be overwhelming. BUT, on the flip side of that, is the incredible feeling you get knowing that you have helped somebody - that you have made a difference in their life, even if it is a pup. 
You get to see people come out of dire situations and go on to live their lives, you get to see them be successful-- and you made that happen. There is nothing better than seseing a client out in the world killing it, being successful, knowing that your organization was the life changer that helped make it happen. You get to see the look on someone's face when you say: "we are here to help" and actually deliver on that promise.  The non-profit industry is not for the faint of heart, but for those with hearts of gold that can withstand time and truly make the difference in so many people's lives.
We have great resources here in Southern Arizona for anybody who would be interested in getting involved or working with non-profit organizations such as the Community Foundation of Southern Arizona (CFSA). I would be happy to connect with anybody who has any questions as well.
Jessica: What would you say is something that people often misunderstand about you?
Diana: Everyone always says, "Oh, you're so busy, your are so involved" and yes I am, but it takes a lot to do the things I do, it's a lot of time management, I am writing a lot of emails after hours, like when the baby goes to sleep and we're watching TV.  I'm usually on my laptop still working. So yeah I do a lot but, it is a lot of work too, not that I don't enjoy it. That's why I do it I suppose! But I think that's something people are just like, Oh, you do all that stuff, and I just wish more people would get involved because it's not that I don't not appreciate the work, but the reward that you get just from being able to help others will always pay off tenfold for you and that's what fills my cup. I think that's something a lot of people are missing from their lives and don't even realize.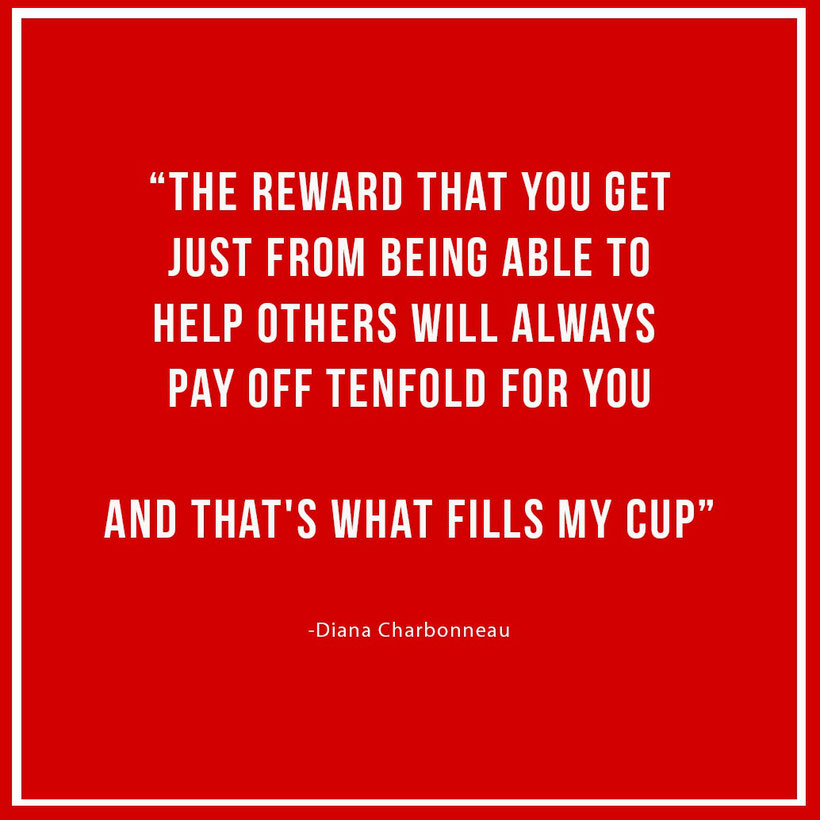 ---
If you want to get involved, get with Diana! You can find her on LinkedIn or connect with her over email at: Diana@impactsoaz.org
---
Are you joining us at the launch party!? Save the date! 
When: 
February 12th at 2pm! 
See you there, and wear your red! 
Where: 
Karen Lukacs studio:
2456 N Pantano Rd
Tucson, Arizona 85715
AND get your copy of the 2nd edition of Success Refashiond Magazine Below!
A limited number of copies will be available on site.