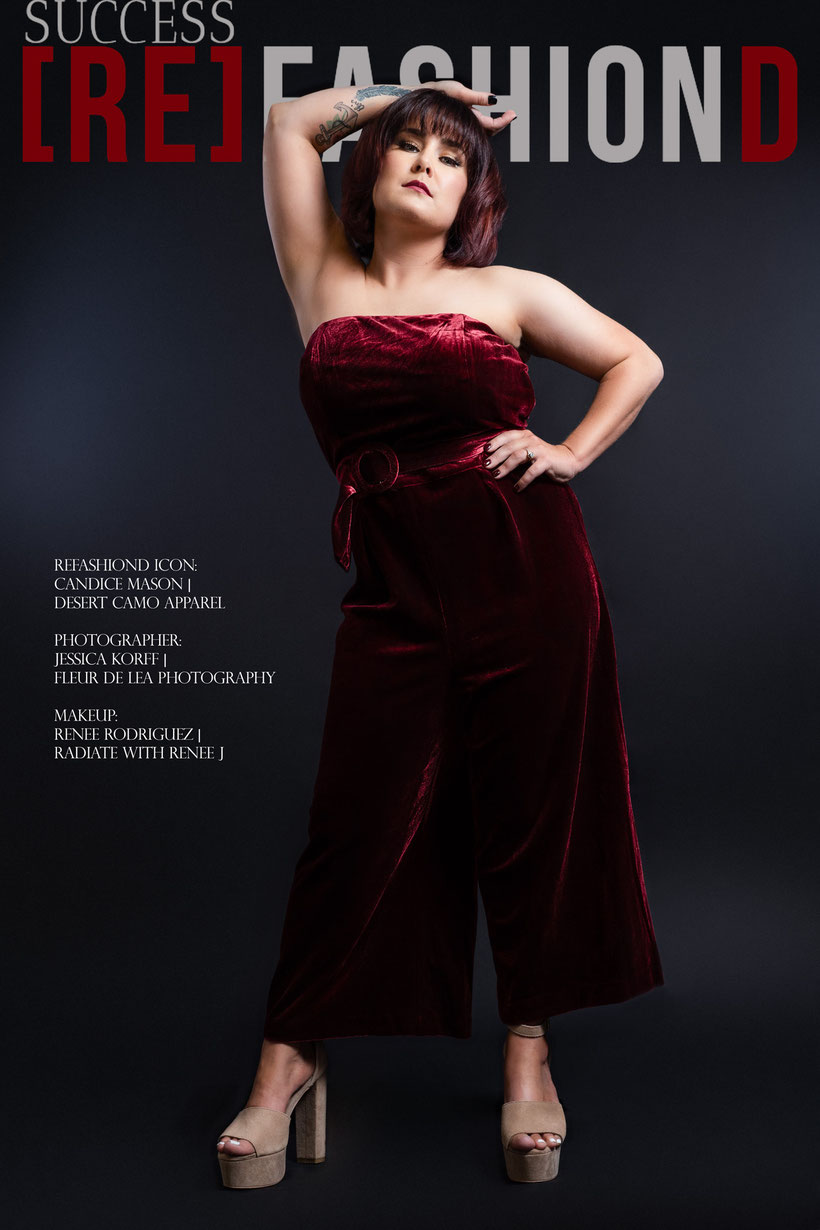 We are getting into crunch time for the magazine as we roll into the end of the year, and unfortunately 2021 still didn't leave REfashiond Magazine completely unscathed. As this pandemic continued, grew and changed, people were still dealing with uncertainty. Each month gets closer to getting better though which means each month we get closer to wrapping up our icon features! 
The woman I have for you today is no stranger to uncertainty and the difficulty that comes with that, nor is she a stranger to triumph and success over it. 
After a scare with skin cancer, Candice Mason turned her focus to prevention and protection. Between building a business that houses a SPF 50+ clothing line (Desert Camp Apparel) to speaking and sharing her story, she has made it her mission to turn the fight of her life into a fight for yours.
And we are thrilled to bring this REfashiond Icon to you. 
---
Jessica: What does RED symbolize for you?
Candice: Red reminds me of my maw-maw because it was her favorite color. She was sassy, bold and straightforward. She never finished school but was self-taught in many aspects of her life. I get a lot of my spunk from her. She was also compassionate, powerful,  fearless and tough.
Jessica: What does Success REfashiond Mean to you?
Candice: Success REfashiond is me redefining my professional path by doing things my way.  I was laid off of my beloved career in cancer research after 15+ years at the University of Arizona. The time is now to keep pushing forward with my business. It is my end goal to combine science, cancer and business.
Jessica: Tell us about you.
Candice: I am a married mother of three active boys who love playing baseball. Baseball keeps us together. It makes my heart happy to watch them grow and improve on their baseball skills over time. As a young girl I fell in love with everything science. I knew when I grew up I wanted to be a scientist. Working in a laboratory.  Science helps me to understand the world around me. My hobby is checking things off my bucket list or living list.  Cancer makes you see life in a new way. In my case I've always struggled with anxiety since childhood. But being faced with death really put things into perspective. I got busy living. The first goal was to use my story and start a meaningful business. Since then the things I've done thus far are: zip lining, taking my family on adventures (Disneyland, San Diego, Grand Canyon, Las Vegas and South Carolina), indoor skydiving, and hunting. As I check off completed items, I add a new one. When starting new avenues of outreach , I always think how can I use my story to help others. Currently, I am Royal International Miss Ms. Tucson 2021. I will be competing for the Arizona state title in January 2022. Pageants are a great way to share important information with others with a platform, mine being the in and outs of skin cancer.
Jessica: Tells us about what you do.
Candice: On the surface I sell and advocate for sun safety.  My e-commerce business aligns with personal story as a skin cancer patient. I've created a line of UPF50+ apparel amd accessories which have been independently tested that block 98% or more of the suns UV rays. We carry our own line of sunscreens. Shop our Trading Post for other sun safe products or gifts. As my journey continues to evolve and I enjoy sharing every step along the way. Especially through social media, vendor events and public appearances. This in turns allows others to learn about the dangers of UV rays, seek support and begin bravely sharing their own battles or victories with skin cancer.
Jessica: Why is the work you do so important?
Candice: I was diagnosed with stage 3 melanoma in 2017. Just I was in the clear after 2 years, a young man thankfully rear ended me and landed me in the ER. I was quickly upgraded to the stage 4 category with advanced melanoma metastasis to my brain, lung, spleen and pelvic wall.  Surgeries, including a double craniotomy (a.k.a brain surgery) immunotherapies and side effects (the biggest being post brain radiation necrosis). I want everyone to know skin cancer can be life threatening. So please take care of your largest organ and get a skin check.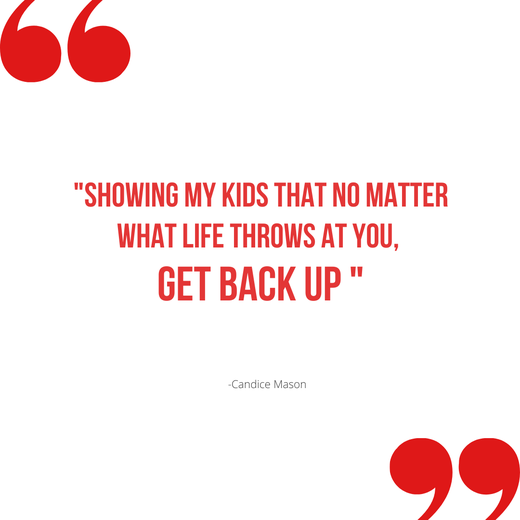 Jessica: What's a common myth about your industry or business, and can you debunk it?
Candice: Three big myths about skin cancer are men, populations with higher levels of melanin and the phrase "it's just skin cancer".   According to skincancer.org men age 49 and under have a higher probability of developing melanoma than any other cancer. Also, late-stage melanoma diagnoses are more prevalent among Hispanic and Black people than non-Hispanic white people. Skin cancer does not not discriminate and more often these populations are diagnosed in later stages.  Did I mention that the skin cancer on my nose spread to other organs of my body? So yeah, it's not just skin cancer.
Jessica: What was a struggle you remember facing when you began?
Candice: Melanoma is the hardest thing I've ever had to deal with. It the most deadliest form of skin cancer, and everything that comes with it has been a challenge. After my original diagnosis, my new normal is now different. I'm in a constant state of healing after every procedure, scans, bloodwork and treatments.  After my reoccurrence and brain surgery it was hard to physically keep up with business but I did it. I chose to use my journey to help others. Even the smallest wins are big. For instance this amazing opportunity to be here alive today to share my journey with you is a big win.
Jessica: What is your biggest accomplishment?
Candice: Coming back from brain surgery.  It's the simple things, like learning how to walk again, driving, using the bathroom, going back to work, running a business.  Showing my kids that no matter what life throws at you, get back up.
Jessica: What is your favorite quote?
Candice: "Because Cancer is a Prick"
Jessica: If your best friend was visiting Tucson for the first time, what other favorite local places or hidden gems would you take them to? 
Candice: I am a native Tucsonan, born and raised. It's hard to say where to go these days. The Tucson landscape is changing at a phenomenal rate. Most times I don't even recognize my hometown. My elementary school was bulldozed to make room for a translational care facility and my first middle school is now a Tucson ENT medical center.  My alma mater, The University of Arizona is a popular destination. Downtown is alive these days. Then you can head up for a drive to "A" Mountain.  I prefer historical visits outside the city like day trips to Sonoita, Tombstone and Bisbee.  Side by side off-road trips are definitely a must do to really experience the rich beauty and history of Arizona.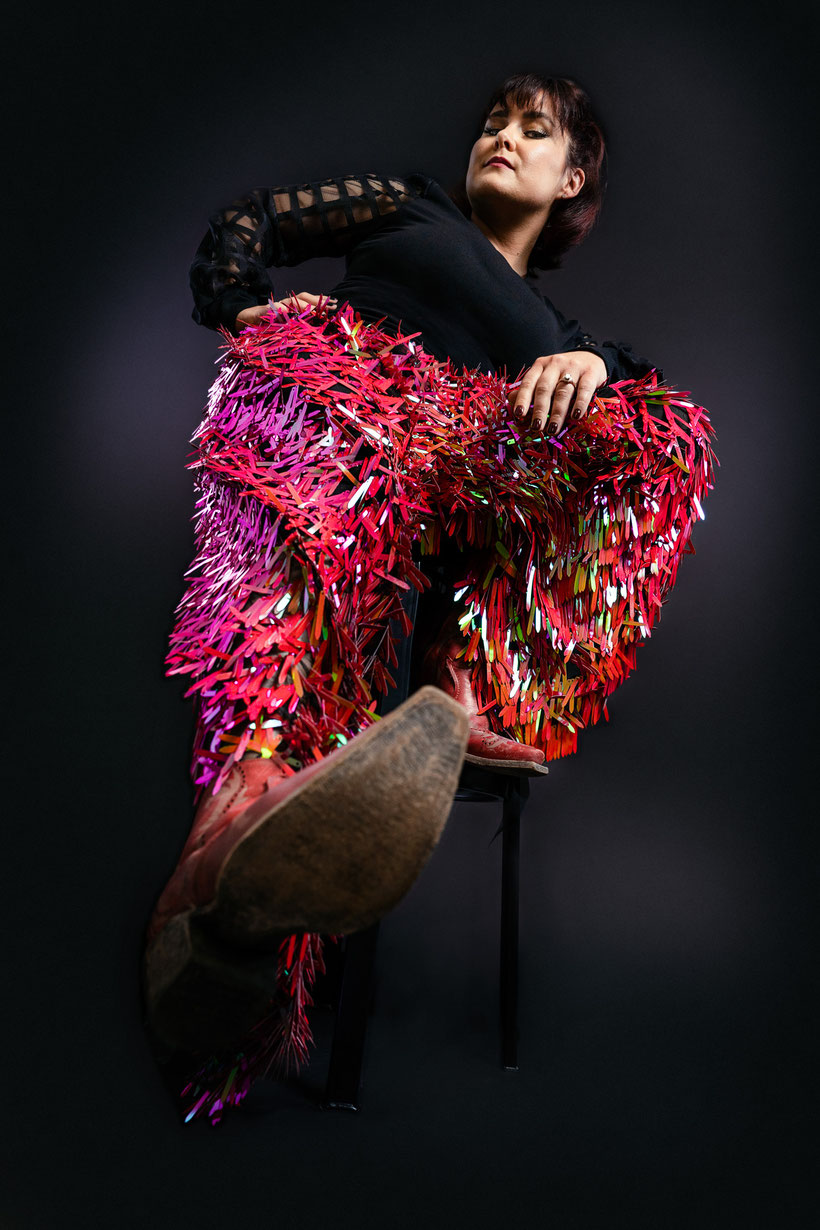 Jessica: Do you have a favorite word? What is it and why?
Candice: That involves cursing.  I'll just say it rhymes with puck. It's a universal word that has various meanings. When I say it out loud I feel like the weight of the world is gone.
Jessica: If you could have one superpower what would it be?
Candice: I really wish I had psychic capabilities. Im that person that likes to know what's coming down the line.
Jessica: On a scale of 1 - 10, how weird are you really?
Candice: 10.  The word eclectic comes to mind. I love just about everything but sometimes trying to combine it all can feel messy.  However,  if I let that get to me I wouldn't  be where I'm today.
Jessica: Tell us about your awards, accolades and notable mentions!
Candice: Arizona Daily Star Best of Tucson 2020 winner (Best Men's Apparel and Accessories) and favorite (Western Apparel). Tucson weekly Best of Tucson 2021 Honorable Mention.
Jessica: Where would you like people to go to find you or find out more about what you do? 
Candice: Shop:  www.desertcamoapparel.com
FB, IG, TikTok: @desertcamoapparel
---
---
Are you joining us at the launch party!? Save the date! 
When: 
February 12th at 2pm! 
See you there, and wear your red! 
Where: 
Karen Lukacs studio:
2456 N Pantano Rd
Tucson, Arizona 85715
AND get your copy of the 2nd edition of Success Refashiond Magazine Below!
---
And don't forget to join our exclusive women change maker community to connect, uplift, ask questions and keep up to date on exclusive events! And keep connected through our podcast, Success Differently, and other education!
---