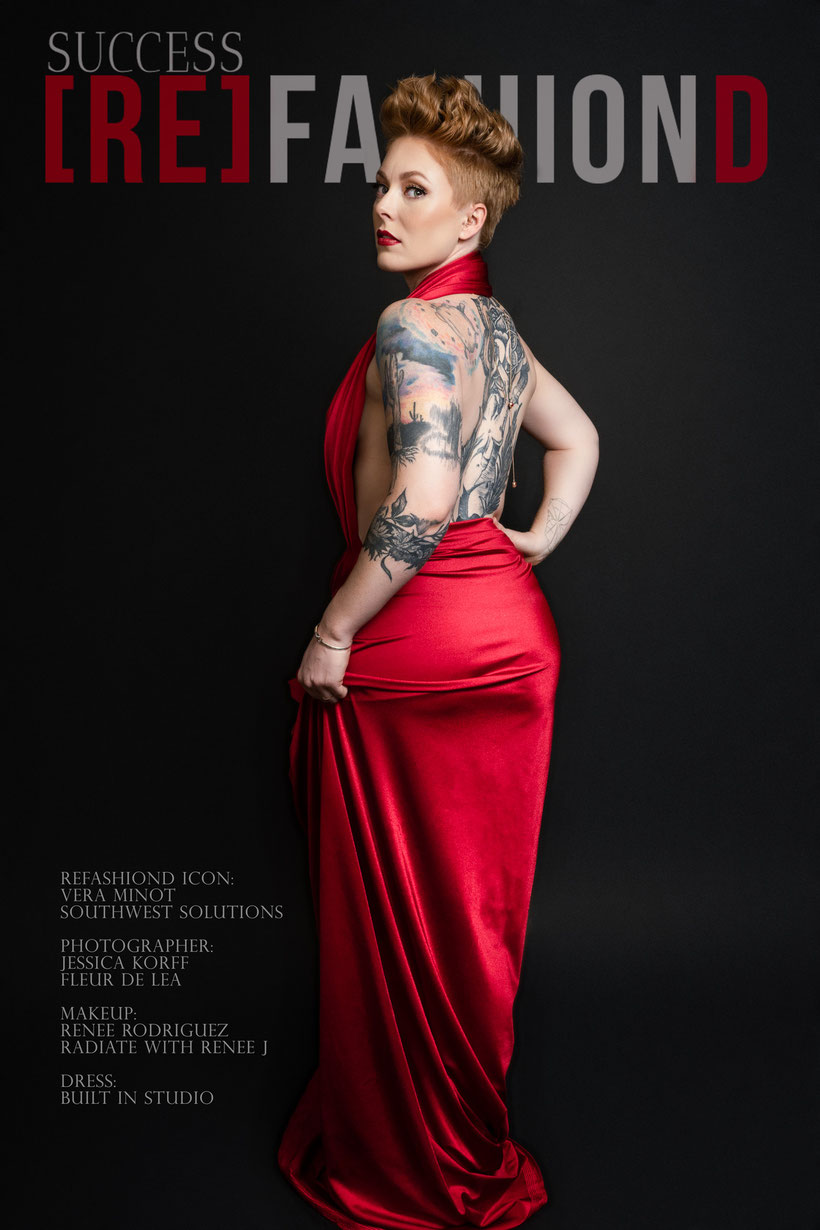 Omg! The moment is FINALLY here! We are announcing the first of 10 fabulous REfashiond Icons coming at you for the next edition! 
And I am absolutely thrilled to introduce you to our first one!
You might recognize Vera from our last edition of the magazine, when she showed up in our Fashion Feature section. When I saw her name come through our nominations and selection committee, I was completely ecstatic.
She is part owner and creative director of local promotions company, Southwest Solutions and currently sits as president for the Tucson LGBT Chamber of Commerce, also lovingly nicknamed the Gaymber. 
Vera is incredible at creating a space that feels safe, inviting and fun! She does this in her business and honestly just standing next to her in person. I recently had the pleasure of photographing her business for branding and the culture they are creating there for employees is one of the best I have seen, they are productive and get things done, and they do it with the most fun I think I have ever seen a workplace have, it almost made me want to go work for them instead! 
I think you will find her interview to be a lot like her, inspiring and fun, and a total powerhouse.
---
Interview with REfashiond Icon | Vera Minot
Jessica: What does RED symbolize for you?
Vera: Red is such an evocative color. The color of life being lived, lost, and renewed (blood), it's also the color of passion and anger.  There's no subtlety in red and I love it for that! It's like a walk-up song personified, the color of life lived at full throttle. My inner wallflower struggles with it sometimes for those very reasons.
Jessica: What does Success REfashiond Mean to you?
Vera: Every day I work towards redefining traditional senses of "professionalism" and "success" in a capitalist society.  I believe that we in business don't have to settle for the gray-suited, sterilized, white hetero-patriarchal, bottom-line-driven definition of success in business that we've been force-fed for decades. 
What could the business realm look like that embraces the whole human, and *every* human? That gives space for the messiness and complexity of the human existence (*gasp*, emotions!!), because people who show up to work authentically get to be more creative and collaborative?  Isn't that successful? 
I don't fit many norms (compared to most traditional norms anyway - I am still very privileged in some ways and acknowledge that there are many folks who have more roadblocks than I do), so every day that I operate in this realm as a trauma-informed, athleisure-loving, introverted queer woman with tattoos and a foul mouth (but who is awesome at her job) feels like a small revolution, refashioning what success means to me, and then translating that into my business.  I have hope - as hard as hope can be sometimes - that my idea of success and professionalism will spread.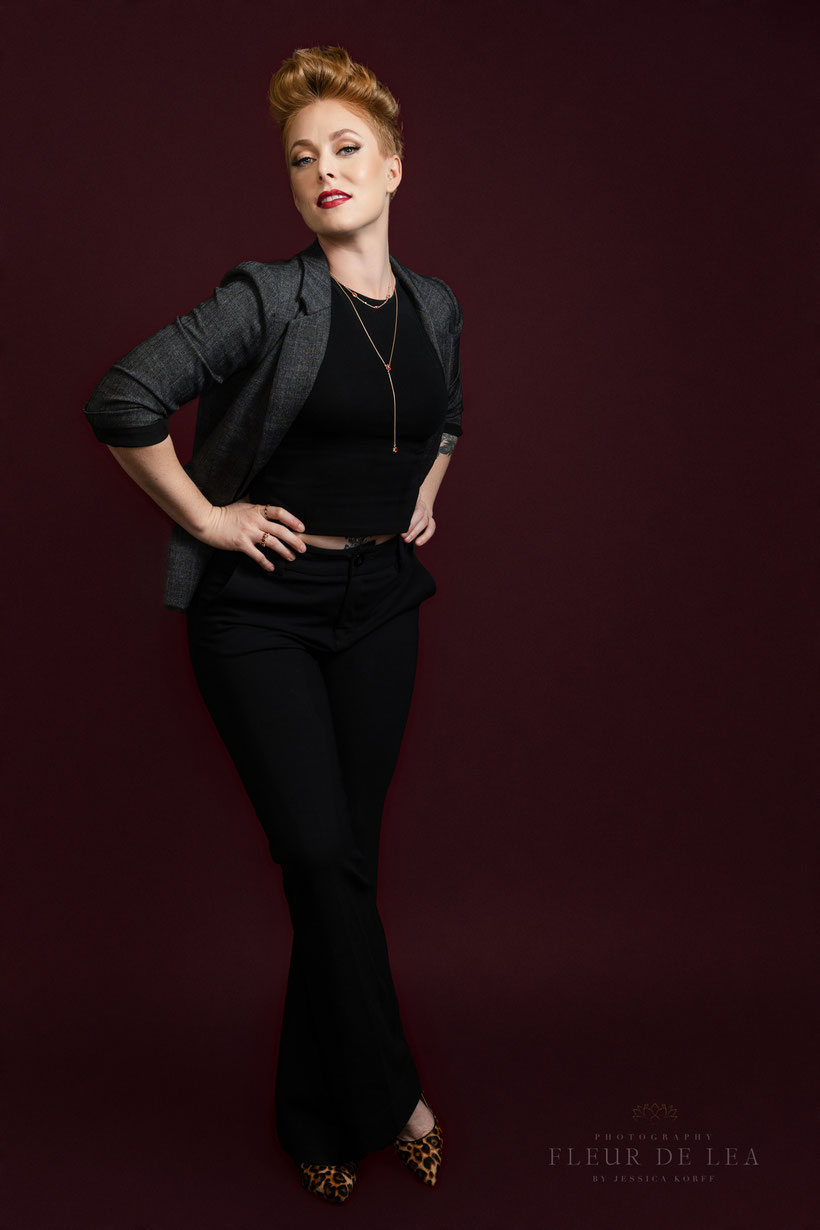 Jessica: Tell us about you.
Vera: About me! Gosh.  Well, I'm a massive introvert and no one believes me when I say that.  I was forged in the fire of a loud, bold (albeit small) family so I can pretend extroversion very well! My dad bequeathed me a love for words and language (plus an ability to stand up to opinionated men ;) ), and I inherited a love of plants and the joys of the natural world from my mom.  My sister makes me laugh harder than anyone I know, and my wife is my rock and my inspiration (and the one who can truly vouch for my introversion!).  I'm a cat lady who loves physical activity (mountain biking, rock climbing, kettle bell training), but my perfect recharge day definitely looks like doing some muddy yard work in the rain before settling onto the couch to watch some birds with a great fantasy novel, wine, cheese, and crackers in hand. 
Jessica: Tell us about what you do.
Vera: I'm a part owner of, and the Creative Director for, Southwest Solutions - we're a physical marketing materials agency (think: promotional products, apparel, print materials, signage, etc.).  Our tagline is: if you can think it we can ink it! I absolutely love what I do, because when I'm doing my job well I'm really digging in deep to get to know other businesses and organizations.  My inner voyeur loves that!! There's something so satisfyingly creative about taking concepts, ideas, values, etc. and translating them into physical materials that other people get to be enthusiastic about, too.  
When we're doing it right, promotional marketing is emotional marketing; because when the product comes alive in the hearts and minds of my clients and their audience, it's no wonder that 88% of promo recipients remember the name of the advertiser on the products. I know a shocking amount about piddly little stuff (do NOT get me going about pens!!), and I basically have a blast every day helping other people get stoked about their own brands.  It's a weird way to spread joy, but it works - my favorite thing ever is the mutual happy dance that happens when I deliver products my clients are excited about. 
In my free time (ha, what even is that), I am the President of the Tucson LGBT Chamber of Commerce (the Gaymber), which is an interesting marriage of my professional and personal lives. I moved back to Tucson after living in Texas for 5 years, and it was a breath of fresh air to know I didn't have to hide who I am for the sake of "professionalism" in a less-than-open-minded environment. It means a lot to me to be able to cultivate a safe space in business for queer folks but also a space of learning for allies (who are tremendously important to the LGBTQIA+ community).
Jessica: Why is the work you do so important?
Vera: From a strictly business standpoint, 85% of the promotional product recipients do business with the advertiser on the product. That's huge!! My industry has incredible impact and potential. But I'm not going to lie - there is so much actual trash out there in the promo product world. When I joined the business I actually had a really low opinion of promotional products - but I quickly realized that is all a matter of choice.  Businesses choose to cut corners on their promo products because they just want "the cheapest thing", and then their audience just throws the thing away. Yikes! This is bad business but it's also obviously terrible for the environment.  I love helping people pick items with intention so their use-life is extended as long as possible.
From the Gaymber side of things, the importance of that work can't be overstated.  LGBTQIA+ people are a vital part of America as business owners, employers, & employees and are an essential part of the engine that makes the U.S. economy run and therefore deserve an equal place at the table.  We have over 160 member businesses in Tucson and are growing every day - and it just makes my heart want to explode knowing there are so many businesses out there who are putting their money where their mouths are with regards to advocacy - not just slapping a rainbow on their logo in June and calling it good, but showing up to the Gaymber meetings  and learning more every day.
Jessica: What's a common myth about your industry or business? and can you debunk it?  
Vera: Oh absolutely! I was a victim to this myth: that all promotional products are just crappy trash you pick up at tradeshows.  NOPE! There are hundreds of thousands of product options out there for businesses to choose from, so if they're giving away trash it's because they chose to give away trash.  Every day I help educate my clients about how to spend their dollars smarter and in a way that sends the *right* message to their audience. "Look how much we value you" rather than "look how little we value you".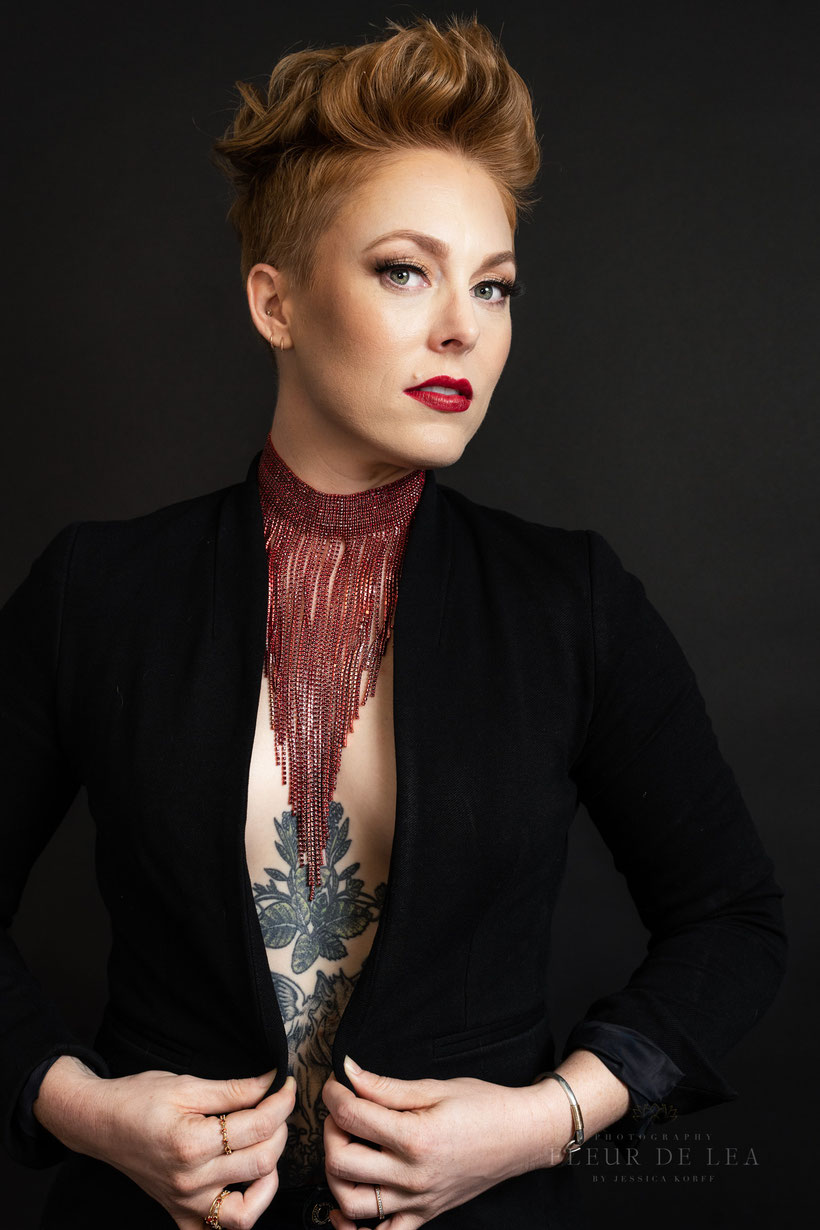 Jessica: What was a struggle you remember facing when you began?
Vera: "When I began"...I'm going to take a quick sec to unpack the question - because I do feel like I have a Beginning that has nothing to do with business.  I was raped when I was 16, and it took me at least a full decade to get help.  I made a lot of terrible decisions (I'm not super proud of the person I was in my 20's), and my memory bank in that time is shoddy at best.  Trauma is truly life altering in so many ways.  I feel like *I began* - loving deeply, living with intention, accessing my highest self - only after I started my healing journey when I was 29.  But starting the journey looked and felt a lot like completely tearing down the person I thought I was - the person I needed to be to survive up to that point - in order to rebuild.  And that was an enormous struggle - dealing with that internal crisis while operating in professional spheres has truly informed how I view people and the world at large.  I'm happy to say I'm on the other side now.
Jessica: What was a moment where you felt like you had to be brave? Something that was scary for you, but you got through it anyway?
Vera: Honest to goodness, business networking always requires bravery for me!! I am very passionate about what I do, but put me in a room with strangers and it feels like a battlefield. My wife can always tell when I've peopled too hard that day, because what I need is mac and cheese and quiet time on the couch.  In all seriousness though, there were many moments in therapy that were terrifying and I went and did the work anyway.
Jessica: Are there any resources that have really helped you on your overall business journey?
Vera: Vanessa Van Edwards books on behavioral psychology are fascinating and influence how I lead my team and interact with clients.  I don't want to be on a soapbox here about therapy, but genuinely the boundaries I feel comfortable setting in business because of the work I did in therapy have been truly indispensable at work.  Both because of the positive impact on my mental health, but also my clients appreciate the straightforward, trustworthy approach!
Jessica: What's Your hype song? 
Vera: I really like Falling Away by Seven Lions.  It's electronica which means I can't overthink the lyrics too much, and the build-up and bass is great for running and getting hyped.  Remedy by Zac Brown Band is my theme song though - it's about how love is the answer, across cultures, religions, politics, etc.  Never fails to choke me up!
Jessica: On a scale of 1 - 10, how weird are you really?
Vera: Definitely at least 8, and honestly I'm not sure I trust anyone who would rate themselves as lower than that! One of the most valuable lessons I've ever learned is that we're ALL just weird -- just some of us acknowledge it, and others don't.  The folks who don't tend to be too wrapped up in what other people think for them to be my people.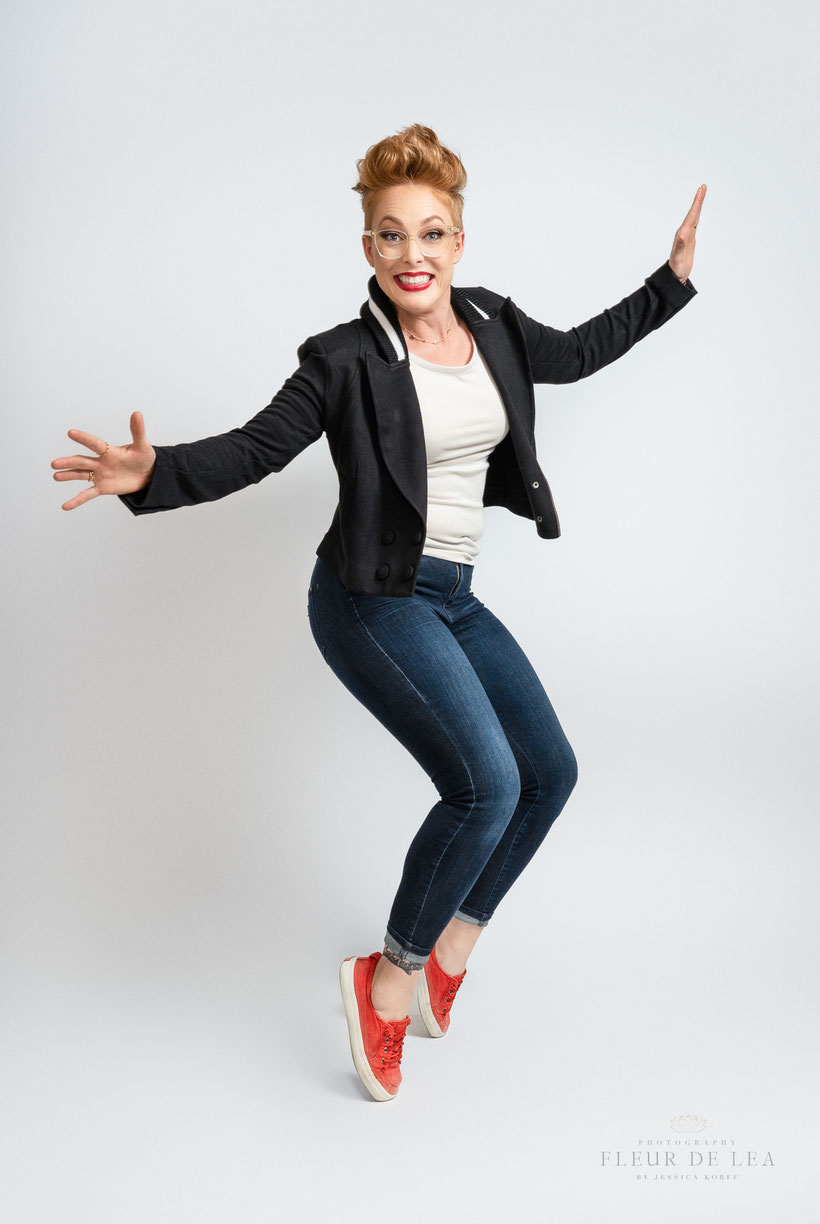 Jessica: Tell me something that's true that almost nobody agrees with you on.
Vera: PIGEONS ARE AWESOME.  I said it! They're amazing.  They're cute, weird, loving, skillful little whack-jobs that humans befriended with great purpose in the past and then ditched and started talking smack about.  They are one of the only birds that can actually suck water up instead of just throwing it back, they have a sense of Home based on landmarks and the magnetic field, and they've saved more human lives than any other type of bird.
Jessica: Tell us about your awards, accolades and notable mentions!
Vera: Southwest Solutions has won a handful of Reader's Choice Awards which can be a great boost for a new business, but now that we've been around almost ten years, two recent industry awards stand out as the most important to me:
One of our team members nominated us for our industry organization's Greatest Companies to Work For list, and we made it! Companies named to the list each averaged agreement from their employees on a set of 15 questions such as "I am paid fairly for the work I do," "This company helps me learn and grow" and "I would highly recommend working at this company to others." We work really hard to cultivate a culture of excellence and creativity without sacrificing mental health or work life balance, and I'm so glad to know it doesn't go unnoticed.
We were also recently the winner of the PPAI Silver Pyramid Award for Client Programs, a prestigious industry award given only to those who can prove that they are helping their clients approach their promo products smarter/better/more creatively.  I couldn't possibly be more proud of my team every single day.
Jessica: Where would you like people to go to find you or find out more about what you do? 
Vera:  We have the most fun on Instagram and Facebook (@Swstucson on insta and @SouthwestSolutionsTucson on FB), but you can also check out more about us online at www.swstucson.com.  The Gaymber also has a great social media presence @tlgbtcc!  Entertaining and educational - what more can you ask for?
---
Creation Credits:
Refashiond Icon: Vera Minot
Photographer: Jessica Korff
Makeup: Renee Rodriguez
Dress: Created/designed/built onto Vera in studio from jersey fabrics