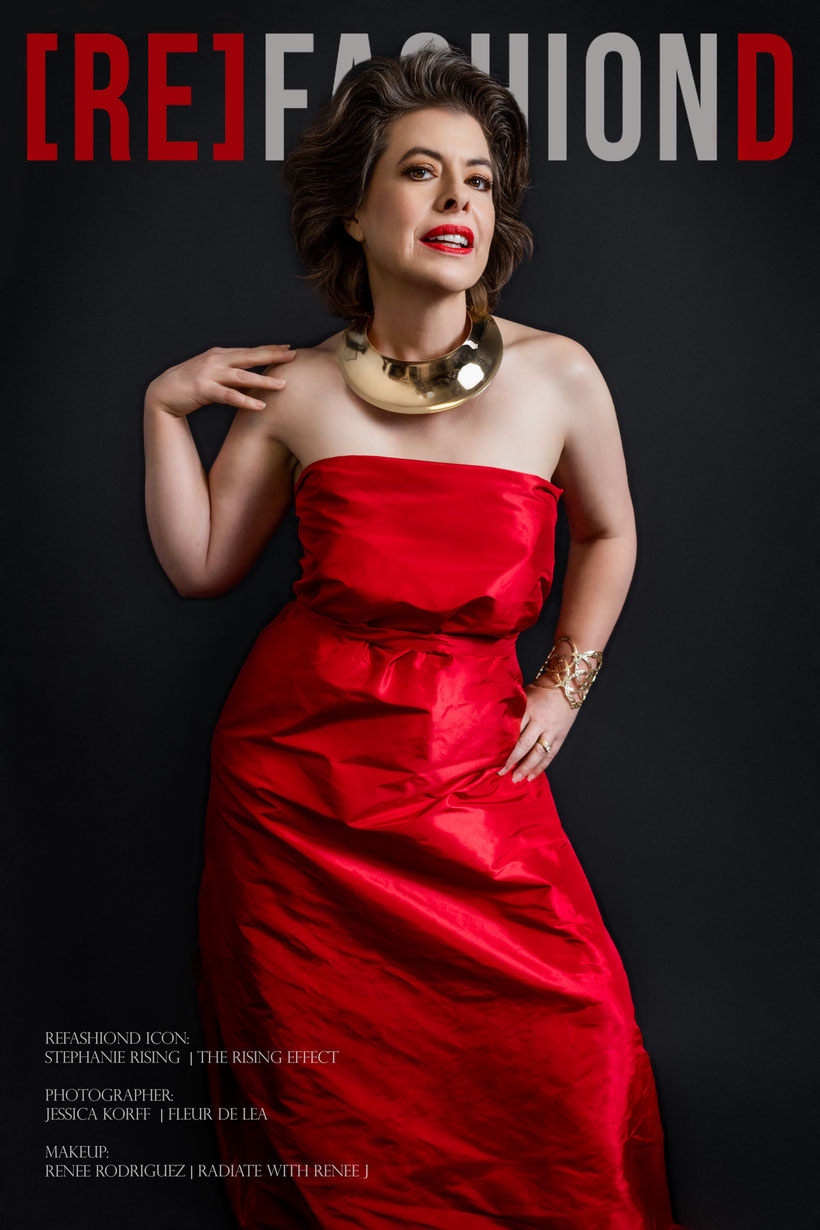 Ah yeaaaah! We are getting to the end of the year and on our way to wrapping up the 2021 issue of Success Refashiond Magazine! How exciting is that?? We have a lot of women coming at you in a short amount of time, and I can't wait to share them all with you! 
Also, this year, we will finally have a LAUNCH PARTY!! (happy dance with me!!) And I am so excited. Details will be coming at you soon, but for now, plan to join us near the end of January!
Today I have someone pretty special for you. She is amazing at supporting and cheerleading other women on in our community, heading up one of the fastest growing online BNI chapters during 2020, and running a successful business of her own, The Rising Effect, for 15 years. I have been lucky to have had her by my side in the last year or so and I am thrilled to bring her to you today!
Read on to find out more about the amazing, Stephanie Rising.
---
Jessica: What does RED symbolize for you?
Stephanie: Definitely strength, power, passion, and also warmth. I think it's that last part where we have the opportunity to do things a little differently. Those first three words are very subjective and often associated with old concepts – especially what it means to be strong and powerful. But as soon as you mix warmth into the equation it changes, I think, for the better.
Jessica: What does Success REfashiond Mean to you?
Stephanie: It means we pump the brakes and really question the nature of success. Like Strength or Power, Success is another one of those highly charged words that comes with too much outdated baggage, mostly attached to material things. For me personally, Success is shedding the B.S. and luxuriating in choice.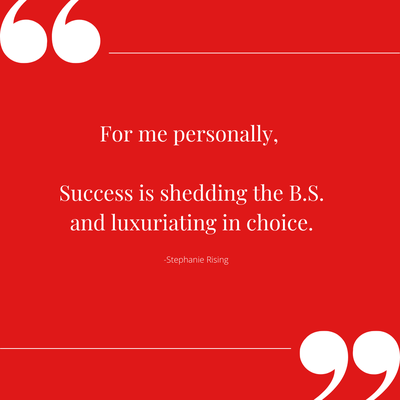 Jessica: Tell us about you.
Stephanie: My family moved to Tucson from upstate New York just before I turned six. A view of the Catalinas is home to me – I love our mountains, the sunsets, the sense of space, the smell of creosote…. The Sonoran desert is a beautifully nuanced place. As kids, my parents used to take me and my brother for walks in the desert. They taught us how to watch out for snakes, and kick over a rock and check for scorpions before picking it up. I used to look for dried pieces of cholla skeleton, and I'd stuff the holes with pretty little rocks and flowers for my Mom. It fed my curiosity about nature and how to look for small but beautiful things. I guess in a way that's remained a hobby of sorts. I still love to go for walks and to observe. I like when things reveal themselves to you in layers. When I think about it, I very much bring that to my work.
I also have the good fortune of being married to George Rising, who deserves a shout out after waxing rhapsodic about the desert!
Jessica: Tell us about what you do.
Stephanie: I'm a small business coach. I love small businesses; I think it takes a lot of guts to own one. The people they employ, the services they offer their community, the charities they support, the families they feed…. and they do all that with a fraction of the resources of a corporation. There are times when that level of responsibility can feel overwhelming and isolating. I help them look at their business holistically – from team utilization to marketing, from systems to finances. I'm an objective brainstorming partner who helps you take a step back and think about what you really want to do, how to get there, and why it's important to you.
I've been in practice for 15 years, and I love this more than ever. It's incredibly rewarding and interesting work that lets me rummage in my mental toolbox all day. I feel really lucky.
Jessica: Why is the work you do so important?
Stephanie: I feel like I'm on a sort of quest to save people's sanity. We have an absolutely bizarre, grind-it-out ethos in this country around work. The last stat I read reported that the average American spends 90,000 hours of their life on the job. So much of that is spent on a hamster wheel of stress that equates hours worked with success or productivity. Like it's a badge of honor to work 60 hours a week. It's incredibly unhealthy, and I seriously doubt that a single human being has ever regretted on their deathbed not answering more email. I want to help people feel fulfilled by their work, empowered in their personal growth, and be able to just breathe. 
Vacations. Remember those things? They're nice. Take one.
Jessica: What's a common myth about your industry or business? and can you debunk it?
Stephanie: Funny you ask that! I just did a presentation on the stories that people tell themselves about coaching. There are many of them, so I'll go with this one. "You're not in my field, so you can't really help me." That's pure fiction. I've worked with countless types of service industries. The owner's job is to be proficient at the technical aspects of what they do. My job is to help them with the nuts and bolts of running their business. One of my clients is a high-end audio video company. Can I wire and install a custom home theater system? Nope. Have I helped them double their business? Yes. And that's possible because all businesses are comprised of people. That means figuring out how to communicate, collaborate, plan, and problem solve. Do I know how to do those things? Yes I do.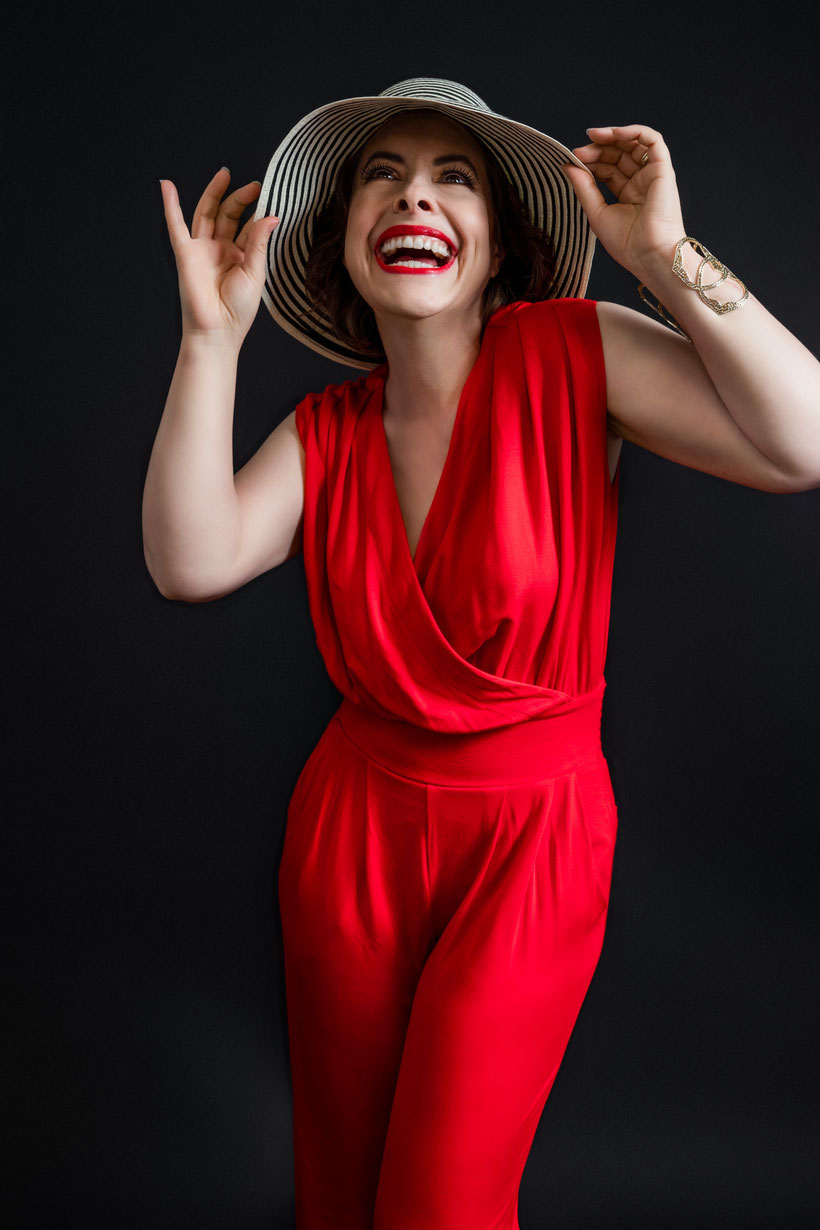 Jessica: What advice would you give to someone wanting to enter your industry or profession?
Stephanie: Be honest about your abilities and stay in your lane. It's a privilege to be trusted. It takes a lot for a competent adult to be vulnerable enough to say "I need your help." Don't oversell what you're able to do for them. If challenges come up that are outside of your expertise, have the wisdom to bring in collaborators. I have HR experts, financial advisors, attorneys, and fellow coaches whom I routinely refer to and turn to for advice. I have therapists I refer clients to when their challenges fall outside my scope of practice. You absolutely MUST stay in your integrity as a coach.
Jessica: What do you wish you had known when starting out?
Stephanie: This is such a good question, and the honest answer is that I'm not sure. I'm in such a good place, and I feel that – regardless of how good, bad, or ugly decisions and experiences may have been along the way – everything I've learned has brought me here. I really don't know if that could have happened any faster. We think about what we would like to tell our younger selves, or what we wish we had known, but the truth is we're not always in a place to hear it. I think the adage "with age comes wisdom" is true because we finally slow down enough for deep self-reflection and self-acceptance.
Jessica: What is your favorite quote? 
Stephanie: I keep coming back to Woody Allen's "80 percent of success in life is just showing up." I love that – it keeps me focused on progress and not perfection.
Jessica: Do you have a favorite local restaurant? What's your favorite dish? Tell us about it!
Stephanie: I love local restaurants period, but if I had to pick one to highlight I'd say The Parish. I got to work with Bryce, Steve, and Travis, and it's been really exciting to see their presence grow – they absolutely deserve all good things. My favorite dish of theirs is just hardcore comfort food, The Parish Burger. The Compressed Watermelon Salad is also delicious. And the Bacon Popcorn. Did I mention their craft cocktails? This question is making me hungry.
Jessica: If your best friend was visiting Tucson for the first time, what other favorite local places or hidden gems would you take them to? 
Stephanie: I never get tired of Tohono Chul Park, the Desert Museum, and Catalina State Park. I also enjoy a nice day trip to Tubac. Seeing San Xavier, going to Gates Pass to watch the sunset, and having a leisurely meal at Hacienda del Sol rounds out my must-do list for visitors.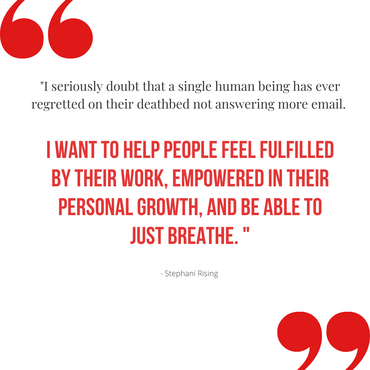 Jessica: Do you have a favorite word? What is it and why?
Stephanie: I was an English Major, so that's like asking a parent to pick their favorite child. One of my go-to words you probably shouldn't print, (we'll just say it rhymes with luck) but as to my Why for it, is it's a noun, verb, adjective, and all-around source of catharsis.
Jessica: Tell me something that's true that almost nobody agrees with you on.
Stephanie: I am writing this while laughing because I think of my family reading this. If something is both true and important, I will argue with you until you concede at least one point. My personal record is a 2008 political debate that ran 6 hours. Like I said earlier, stubborn.
Jessica: Tell us about your awards, accolades and notable mentions!
Stephanie: NAWBO Greater Tucson's Woman Business Owner of the Year, Finalist
BNI Southern Arizona's Rising Star Award, Winner
BBB Southern Arizona's Ethics Torch Award, Winner 
Tucson LGBT Chamber's Emerging Small Business, Winner
---
Session credits:
REfashiond Icon: Stephanie Rising | The Rising Effect 
Photographer: Jessica Korff | Fleur de Lea Photography
Makeup: Renee Rodriguez l
Radiate with Renee J
---
Are you joining us at the launch party!? Save the date! 
When: 
February 12th at 2pm! 
See you there, and wear your red! 
Where: 
Karen Lukacs studio:
2456 N Pantano Rd
Tucson, Arizona 85715
AND get your copy of the 2nd edition of Success Refashiond Magazine Below!
---
And don't forget to join our exclusive women change maker community to connect, uplift, ask questions and keep up to date on exclusive events! And keep connected through our podcast, Success Differently, and other education!